How to Attach Round Rings on a Curtain
by Katie McFarlin

Round curtain rings are quickly becoming a common window treatment option in many homes because they are both attractive and easy to open and close. Round rings typically come in colors and finishes that match the curtain hardware and are complementary to the drapery design, which allows them to be used in almost any setting. If want to hang your curtains from round rings, follow these steps for attaching the rings to make sure the curtains hang correctly.
Attaching Curtain Rings: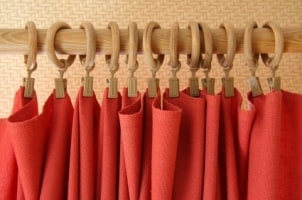 Shop Curtain Ring Sets ▸
Prepare the curtain.

Unfold the curtains and lay them out flat on a piece of furniture, so you can easily attach the curtain rings. If you are using rings with clips, on a flat panel without pleats, you will need to measure the distance between each ring. Start at one end and use the ruler to make sure you space the rings evenly. Set the rings about 5 inches apart. Mark each point where you will place a ring with a straight pin.

Attach the rings.

Round-ring curtain fasteners come in a few different styles, but typically, they feature a clip to attach to the curtain. You may also see curtain rings that have small eyelets to attach to hooks set on the back of your curtains; with these, you can simply slip the eyelet over each hook. The hooks are usually used on pleated curtains, and a hook with a curtain ring is placed at each pleat.

Hang the curtain.

Remove your curtain rod and thread it through all of the rings, taking care to make sure each one is attached properly. Once you have completed this step, place the curtain rod back on the window.

You may need to order more than one set of curtain rings to have enough. It may be a good idea to do Step 1 (measure your curtain) before you place your order for curtain rings.