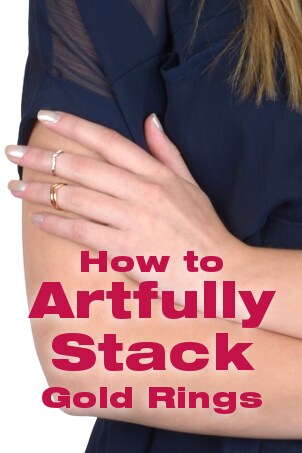 SHOP STACKABLE RINGS NOW >>
If you're looking to make a style statement, try wearing gold stackable rings. Stacking rings is more than just piling on every ring you own; you'll want to approach it with a bit of style. With a variety of gold rings in your jewelry box and these tips, you can easily stack your rings with artistic flair.
Stacking Gold Rings with Style:

Choose a few different styles: In addition to your regular rings, you'll want to shop for a few of the new ring styles that let you really pile on the glamour.

Best Rings for Stacking:

Midi rings: Meant to be worn between your middle knuckle and the tip of your finger, midi rings can be worn one at a time or several at once. You can even wear one or more on each finger at the same time. These will be smaller than your other rings because they aren't meant to be pushed past your middle knuckle.

Knuckle rings: This is another name for midi rings that you may see as you're shopping.

Double rings: Double rings have two rings are connected, with a chain or with a solid bar. This is an easy way to stack rings on one finger, since you have two in one.

Knuckle harness ring: This is another name for double rings that are connected by a chain, with one ring meant to be worn low and one meant to be worn midi.

Mix up the textures: You can buy several matching rings and wear them all at once, but textured gold jewelry allows you to create a different look each time you wear it. Shop for gold rings of varying widths and intricate details. Consider novelty rings that depict animals or other designs. You can stack these whimsical gold rings with two or three plain bands. Very thin gold rings look nice with super thick bands.

Consider colors: When you picture gold rings, you probably think of yellow gold. Yellow gold is a fantastic style option with vintage appeal, but why stop at just yellow gold rings? Mixing and matching yellow gold with white gold and rose gold is fun and fashion-forward. Sandwich a thick rose gold band between two thin yellow gold rings or layer white, yellow, and rose gold rings all on one finger.

Add some gemstones: Plain bands are easy to stack, but adding a diamond or gemstone ring to the mix allows you to craft your original look. Solitaire rings add just the right amount of sparkle to a collection of gold bands. Eternity bands are also perfect for stacking; these rings feature a row of diamonds or gemstones across the top or around the entire ring. Collect gemstone bands or affordable cubic zirconia rings in a variety of gold colors.

Don't forget about your nails: The finishing touch for your artfully stacked rings is a good manicure. A short mani with a dark nail is popular with stacked rings, but you can express yourself however you want. Try a stiletto nail with gold glitter polish to match your rings, opt for a clean French manicure and let the rings get all the attention, or do a bold coral or turquoise nail to really set off the gold.

Shop Gold Rings
Shop Midi Rings
Shop All Stackable Rings
See All Guides
Read More Jewelry Guides
Learn More about Rings
Published September 16, 2011
Updated November 11, 2014