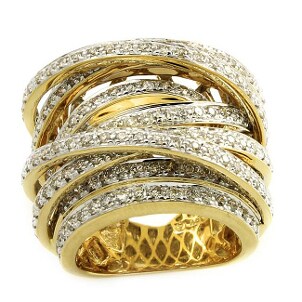 Gold will add a worldly look to any outfit. Gold rings are among the most popular pieces of jewelry this season; they have a classic elegance that never goes out of style. Choose a variety of gold rings that you can creatively stack to craft a different look each time.
Stacking Gold Rings:

Opt for texture: You can buy several matching rings and wear them all at once, but the look may get boring after only a few times. Choosing textured gold jewelry allows you to create a different look each time you wear it. Shop for gold rings of varying widths and choose rings with intricate details. Consider novelty rings that depict animals or other designs. You can stack these whimsical gold rings with two or three plain bands for unique diversity. Very thin gold rings look nice with super thick bands.

Consider colors: When you picture gold rings, you probably think of yellow gold. Yellow gold is a fantastic style option with vintage appeal, but why stop at just yellow gold rings? Mixing and matching yellow gold with white gold and rose gold is fun and fashion-forward. Sandwich a thick rose gold band between two thin yellow gold rings or layer white, yellow and rose gold rings all on one finger. Your style options are endless when it comes to stacking white, yellow and rose gold rings.

Add some sparkle: Plain bands are easy to stack, but adding a diamond or gemstone ring to the mix allows you to craft an original look. Solitaire rings add just the right amount of sparkle to a collection of gold bands. Eternity bands are also perfect for stacking. These gemstone rings feature a row of diamonds or gemstones across the top or around the entire ring. Collect gemstone bands or affordable cubic zirconia rings in a variety of gold colors.

Buy Gold Rings
Back to Guides Directory