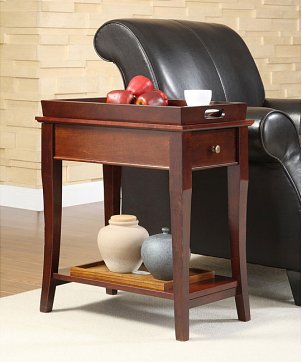 In today's fashion, the end table can really be put just about anywhere. You've seen end tables located near recliners, on either side of the bed, behind a couch, against a wall and next to bookshelves. End tables look fabulous as a room's main focus point or merely as an afterthought, but you waste their potential if you just let them stand empty next to a bed or couch. They can be even more attractive when decorated. Keep reading for ideas on how to arrange end tables in your home.
Arranging End Tables:

In the bedroom. If your accent table is next to a bed, make sure that there's a lamp sitting on it. Many people enjoy reading at the end of the day, and the lamp will be in easy reach if it's located on the end table. Putting a lamp on an end table also gives a room a pleasant feel and makes it a more inviting place to be.

In the living room. Accent tables in a living room are the perfect resting place for extra magazines and books that don't quite fit on the shelves. A vase full of flowers or baubles sitting on your end table will give your home a more formal look, as will the presence of a handsome clock.

During the holidays. Put an empty glass bowl on your end table or coffee table and fill it with Christmas ornaments for the winter holidays. A beautiful glass vase filled with flowers welcomes spring into a bedroom or living room. If you want to celebrate the autumn months, then a wooden bowl filled with apples or some strategically placed pumpkins adds the perfect finishing touch to your home's decorations. End tables and coffee tables are a good place for party decorations as well. They also can hold food and extra dishes for a party or when relatives stop by for a quick dinner visit. Don't forget to provide coasters to keep your fabulous end tables from getting water stains.

On display. End tables are the perfect place to put a favorite family photograph or to highlight a plaque or awards received. Put a favorite family game on an end table for constant access.

Music time. If your shelves are crammed with CDs and there's no place for a music player, look no further than your handy end table. Put your CD or MP3 player on your end table and listen to your favorite artist when you're home alone or during a get together. Many end tables have interior shelving where you can store your CD cases out of sight.

A catch-all. Sometimes it's just nice to have a place to put your coffee cup, television remote or cell phone. Keep a nice decorative bowl on your end table and put your keys or spare change in it.

Buy End Tables
Back to Guides Directory