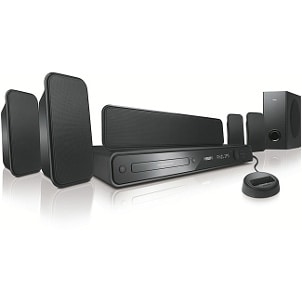 Things You Need:
Receiver
Five speakers
Subwoofer
Audio cables
You don't need to go to the movie theater to experience the full spectrum of video and surround sound that full-size theaters offer. Large, high-definition television sets are getting cheaper all the time, and Blu-ray discs reproduce films in crisp, clear picture, making home theater systems better than ever. But video is only part of the home theater experience. Adding a surround sound system to your home theater will make you feel like you're part of the action.
Adding Surround Sound:

Assemble all your components. This first step seems simplistic, but taking all of the items out of the box your surround sound system came in is important to make sure you aren't missing anything. It will save time to discover missing items right away. This is a good time to read the list of parts from your home theater user manual.

Find a system that meets the sound requirements of your other audio and video. If you have a Blu-ray or other high definition player, you may need a surround sound system that can handle high-definition signals.

Some home theater systems come with more speakers. Most DVDs and Blu-ray discs are coded for just 5.1 surround sound, so five speakers will work just fine.

Make sure you have all the surround sound speakers, power cables and speaker wire that came with your home theater system. You might consider purchasing longer speaker wire than what comes standard with your surround sound system, depending on the distance between the speakers and the receiver. Purchase simple copper wiring sheathed in a plastic coating for safety.

Once you have removed all parts from the box, it's helpful to arrange the speakers on the floor in the space they will occupy. This gives you an at-a-glance view of the speaker arrangement of your surround sound system.

Place your speakers.
Place two speakers on either side of the TV. These will handle normal stereo sound. Imagine the floor of your room as the face of a clock. The TV will be in the 12 o'clock position, and these two speakers will be in the 10 o'clock and 2 o'clock positions.

Place the center channel speaker on top of the TV or fixed to a wall above the TV. This speaker will handle sounds like dialogue.

Place two speakers in the back of the room. These can be anywhere behind the 3 o'clock and 9 o'clock positions. Mounting speakers near the ceiling is a good way to work around windows or doors in awkward places. The rear speakers create the surround sound effect, which is especially impressive for action sequences, where you will really feel the sounds of a car chase or explosions.

Connect your subwoofer to your receiver. The subwoofer is a larger speaker designed to reproduce low-end sounds and adds depth to the overall sound. The sub is really important; don't leave it out when selecting your surround sound system. You can place it almost anywhere without affecting home theater sound quality.
Connect your components. Plug all the cables from your speakers, DVD player and other electronics into your home theater receiver. See your user manual for a diagram of where each device should connect. The receiver acts as the control center for your home theater system. It amplifies the sound and controls the surround sound speakers, so make sure all the cables match up with their respective speakers.
The surround sound system may have a built in DVD player with the 5.1 home theater system and won't require an auxiliary receiver. These packaged DVD players /home theater systems, or "all-in-one packages," are often a good deal but vary in quality and features. To see which features work for you, research the home theater system's features before you buy.
Test your surround sound system. You can test your surround sound speaker placement by playing a CD in your DVD player. Make adjustments as necessary to get the optimum surround sound experience.

Buy Home Theater Systems
Back to Guides Directory