by M.S. Beltran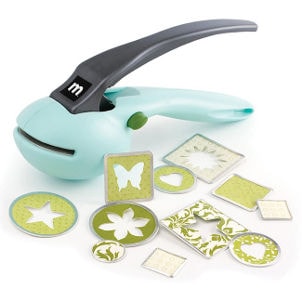 Things You Need:
Die cuts
Die cutting machine
Die cutting templates
Adhesive
Glitter
Paints
Markers
Colored pencils
Scrapbooking is a fun hobby that allows you to preserve and display precious photos, papers and other mementos. If you have ever looked at a professional scrapbook or admired a friend?s perfectly decorated photo pages, then you might be interested in taking your own scrapbooking to the next level. Like stickers and other embellishments, die cuts are a great way to dress up any scrapbooking layout and give it a polished look. They are easy to use and come in a wide variety of shapes, sizes, colors and styles. Try using some die cutting supplies in your next scrapbooking layout to make your page stand out.
Adding Die Cuts:

Deciding on a theme for your layout is a great way to achieve the creative look you desire. When selecting a theme for your scrapbook page, consider the photos and other sentimental items that you are using. For example, if you are decorating a scrapbook page that will highlight photos from a family vacation, you should consider die cuts that share the theme of the trip or highlight the destination. Die cuts come in many different varieties and colors, and they are sold individually and in packaged sets so you can give your scrapbook the perfect themes. If you are not able to find the right die cuts pre-made, then you might consider investing in a die cutting machine and die cutting templates so you can make your own die cuts to suit your creative preferences.

Decorating your die cuts further can give your scrapbook a very personal and ornamental theme. Consider coloring your die cuts with markers or colored pencils, filling in details or outlining and adding borders. You can also use glitter and other embellishments to add sparkle to your die cuts before putting them in your scrapbook. These details will make pre-made die cuts personal and also let you get as creative as you?d like with your scrapbook pages.

Arranging the elements on your scrapbooking page takes some careful consideration. When you have a lot of items such as photos, die cuts, stickers, stamps and other supplies to put onto your scrapbooking paper, it can be a little difficult making it all work. The best way to create an organized scrapbook page is to start with the most important items and add the others as you go along. Affix pictures and other keepsakes to the page first, then work other embellishments and die cuts around these items. If you need to make or purchase new die cuts to better suit the page layout, don?t feel put-out. You can always use your existing die cuts on future scrapbook pages or even on birthday cards and gift tags. Die cuts are incredibly versatile.
Tips:

If you feel tentative about putting your scrapbook page together, you might consider adhering all of the elements to the page after you have chosen a layout. This will allow you to move photos and die cuts around to choose the perfect pattern before finalizing the look of the page.

Layering two or more die cuts on top of each other gives them a great effect by creating texture and a unique look. Make these layered die cuts easier to work with by affixing the layers to each other first, then attaching the single unit to the page.

When affixing die cuts, you may need a few different types of glue or tape. Lightweight die cuts made from paper and cardstock adhere easily with a simple glue stick, while heavier die cuts such as those made with foam, leather, and various types of fabric are best affixed with double-sided tape. You can also use miniature adhesive foam disks or squares to lift your die cuts and make them pop off the page.

Buy Die Cutting Supplies
Back to Guides Directory