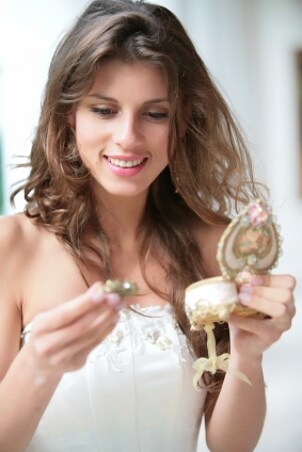 If you want to bring more sparkle to your life, then consider shopping for a few new gold charms. A charm bracelet isn't necessary for showcasing gold charms, so even if you aren't the type to wear fancy jewelry, you can still try a few luxurious trinkets. This fun type of gold jewelry can be worn in a variety of ways, allowing you to showcase your personality with plenty of sparkly flair. If you are looking for new, unique jewelry options, consider these tips for accessorizing with gold charms.
Accessorizing with Gold Charms:

Clip a charm to a handbag. Gold charms add a lot of shine to your daily look. If you don't want to wear your jewelry on your body, then consider clipping gold charms to your favorite handbags. You can choose the charms that will showcase your personality. Not only will these charms personalize your favorite bags, but they can also help you remember which pocket you keep your keys in.

Use a charm as a zipper pull. If you own the same terry track suit as your friends, then why not make it your own with a pretty new gold charm on the zipper? A gold charm on a zipper pull puts your personal stamp on trendy outfits. Choose from animal charms, sport charms and travel charms when looking for a cute new gold zipper pull.

Decorate your shoes with gold charms. Charms can easily be clipped onto canvas shoes or sandals to give them more style and an eye-catching design. Choose matching charms that show off your hobbies or depict your favorite flowers. Gold charms will give your shoes a lot of shine because the jewelry will dance when you walk.

Embellish a fun hairstyle with gold charms. Make your next flirty hairstyle unique by clipping charms to hair ties or directly into your hair. Braids, pigtails and buns get a makeover with one, two or three pretty gold charms. This style is great for formal events like prom, but it can also suit an everyday look. Keep your beauty routine interesting with gold charms in a variety of designs.

Buy Gold Charms
Back to Guides Directory