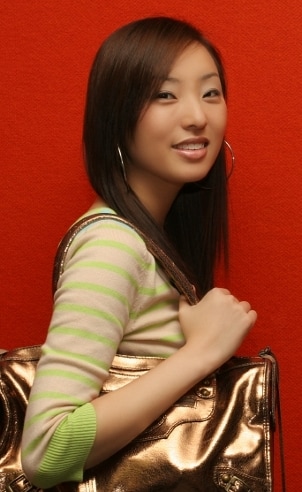 Hoops are popular earring choices for women of all ages. Hoop earrings can be worn with practically anything and can be dramatic or demure, depending on the size, color, shape and embellishments. Diamond hoop earrings are a great way to bring luxurious diamonds to your jewelry collection. Diamond hoop earrings are incredibly elegant, and diamond earrings can also be flashy and exciting. Diamond hoops make an impressive gift and can be gifted with other types of jewelry to really make a statement of love or commemorate an impressive accomplishment. Buy diamond hoop earrings for your daughter when she graduates from college; surprise your wife with diamond earrings on your anniversary; or lavish yourself with diamond jewelry when you finally land that big client at work. Use our tips to wear diamond hoop earrings with almost everything in your closet.
Wearing Diamond Hoop Earrings:

Size them up. Diamond jewelry is available in a range of sizes. Diamond hoop earrings can be small, with just a few petite diamonds, or gigantic, with an extravagant smattering of large gems. Size is an important factor when deciding how to wear your diamond hoops. Small diamond hoop earrings can be worn almost any time of day and with a variety of outfits. Large diamond hoops are best reserved for the evening and casual wear. If your diamond hoops aren't terribly large or incredibly small, wear them anytime but keep other accessories to a minimum.

Think like a designer. Hoop earrings are available in many different styles and shapes, and each design is well-suited to a different fashion ensemble. Simple, smooth, round diamond hoop earrings are versatile and classic. Wear a pair of simple, elegant diamond hoops with your favorite cocktail dress. Hoops with twists and textures are interesting and modern. Wear unconventional hoops with skinny jeans and a leather jacket. Square hoop earrings are exciting and can be worn with dressy or casual outfits.

Choose colors carefully. Diamond hoop earrings are traditionally available in gold and silver hues. Gold hoops are fancy and complement rich colors, such as red, navy and olive green. Silver hoops are slightly more versatile for most women and go well with light blue, black, white, grey and pink. Colored diamonds are also available and they are fun and cheerful. Choose clothing colors that match or go well with the colored diamonds in your hoops. Rose gold, bronze, copper and other alternative metals offer a myriad of hoop color choices.

Buy Diamond Hoop Earrings
Back to Guides Directory