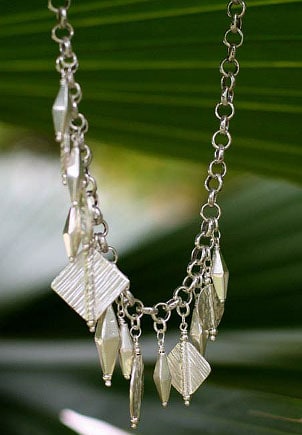 Charm jewelry is youthful and feminine, and charm necklaces are the perfect indulgence for any occasion. Charm jewelry is versatile, and you can wear charm necklaces and charm pendants with anything casual, office-ready or dressy. Charms are available in a range of styles, so you can choose charm jewelry and pendants that will match your personal style. Whether you want to purchase your charms and charm pendants already designed or you are looking to create your own charm fashion jewelry, our tips will inspire you to wear charm necklaces, charm pendants and other charm jewelry in fun and exciting ways.
Accessorizing with Charms:

Try a new length: If you have a jewelry box full of necklaces that are all the same length, try a piece of charm fashion jewelry that breaks the mold. Charm pendants on long chains can visually lengthen your torso while giving charms plenty of movement. Short charm necklaces and charm chokers frame your face and display your charms spectacularly. Unusually long or short charm necklaces are also great for layering with other pieces in your collection.

Pile on the charm: Many charm necklaces come decorated with charms, and others have space for you to add your own charms. Personalized baubles are great choices; consider charms incorporating your birthstone or depicting your favorite sport. You can decorate your charm necklace with as many charms as you like. Simply add and remove charms until you have the perfect necklace for your collection.

Experiment with gemstones: In addition to charms, many charm necklaces look fabulous with gemstones. Gemstones are available in a range of prices and colors, so you can find the gems of your dreams for your necklace. Consider pairing a large aquamarine with sea life charms or creating a charm necklace for a new mom with rose quartz gems and baby girl charms.

Charm with layers: Layering jewelry has become popular in recent years, and layering your charm necklaces with other necklaces and pieces of jewelry is a great way to get in on the trend. Try to wear necklaces of different lengths when layering to showcase each piece perfectly. Remember to keep other jewelry selections subtle and neutral to keep them from being distracting or overpowering.

Buy Charm Necklaces
Back to Guides Directory