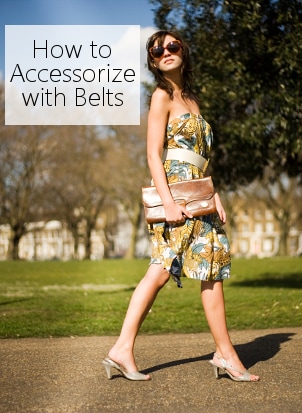 Pulling a belt through the loops on your pants is an excellent way to finish off an outfit. But if you're ready to think outside the belt loops, then you may have a few questions about how to accessorize with belts. Worn right, they can enhance your shape and add interest to your look. Here's what you need to know.
Wear Belts with Style:

Highs and lows: When you layer your belt over the top of your clothes, you can choose the placement. If your clothes feel loose, cinch them with a belt in the place that makes you feel less shapeless. Create an empire waist by wearing a wide elastic belt around your ribcage. Create an hourglass shape by cinching in your true waist, right where your ribcage ends, with a narrow belt. Or wear it low, around your hips; this works well with double-wrap belts.

Tied in knots: A long, skinny belt gives you the option of getting creative with the ends. A ribbon belt could just be tied in a cute knot. A long leather belt can be buckled, and the loose end can be pulled behind, over, and through the loop. You can let the loose end hang from there, or you can pull it through again to get the look you want.

A pop of color: Whether it's at your waist, over a cardigan, or around your hips, your belt can add a dash of interest to your outfit. For instant glamour, try a hot pink, lipstick red, or shiny gold belt over a black dress. For a sweet style, add a blue or coral belt to the waist of a skirt. To really make a statement, cinch a multicolored or leopard print belt over a denim jumpsuit.

Brush up on the classics: Of course, wearing a belt through the loops in your pants is the classic way to go. A 3/4-inch-wide belt is flattering on almost any woman, and a color that matches the pants you're wearing will make sure there isn't a line creating visual width on your body. A belt fits perfectly when you can comfortably buckle it in the third hole.

About the buckle: If you're looking for a belt that is slimming, make sure the buckle is small and subdued; if it's metal, look for a matte finish. But if you want to make a statement, a large belt buckle is a playful place to do it. A fancy belt buckle is like jewelry for your waist.
What Do You Want to Do Next?

Shop for Leather Belts
Shop for Elastic Belts
See All Women's Belts
See All Guides
Read More Clothing & Shoe Guides
Learn More about Accessories