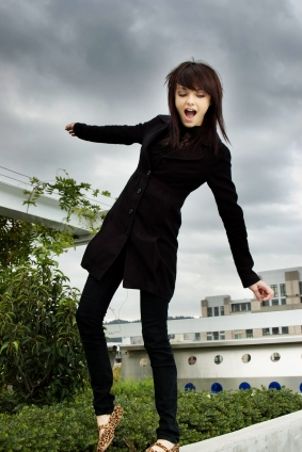 A fashionable choice of outerwear for decades, a peacoat pairs nicely with an entire wardrobe. Whether you want to wear one with a casual or formal look, there are different accessories that tie the whole look together. Look for these women's coats in a variety of materials, such as cotton fleece, wool, cashmere, wool blends, and cotton canvas. To protect yourself from particularly fierce winters, look for one made of heavy wool or cashmere. Then, with these tips, you can make the peacoat a fashionable must-have in your closet throughout the year.
Ways to Wear Your Peacoat:

Accessorize your peacoat by placing a piece of jewelry on the lapel. A large brooch gives the peacoat a glamorous touch, especially for an evening out.

Give the peacoat a vintage look by wearing a large pair of oversized sunglasses. The peacoat's popularity increased when style icons such as Jacqueline Kennedy and Audrey Hepburn wore them with pearls, sunglasses, and other accessories. Oversized sunglasses with tortoiseshell frames give women's coats a feminine touch.

Pair the peacoat with a warm cashmere scarf. During winter, a warm scarf looks stylish and is functional. If you have a dark coat, such as black or navy blue, use a scarf that offers a pop of color -- like red, lavender, cream, or light blue.

Pull your hair back into a simple bun or ponytail and accessorize. Since women's peacoats are a classic look, you can keep your hairstyle simple as well. To dress it up a bit, add a smooth headband or add contrast to the sleek peacoat with jeweled embellishments.

Pair your peacoat with a classic handbag. Whether you have a designer bag or not, there are many classic designs that go well with a peacoat. A flap bag in a quilted pattern looks great, as do embossed leather bags. Faux crocodile fabrics and simple colored handbags are classic as well.

Accessorize your peacoat with a comfortable pair of shoes. To complete a casual look, pair the peacoat with jeans and a pair of ballet flats or dress up the outfit with slacks and a pair of heels.
What Do You Want to Do Next?

Shop for Women's Wool Coats
Shop for Plus-Size Coats
Shop All Women's Coats
See All Guides
Read More Clothing & Shoe Guides
Learn More about Outerwear