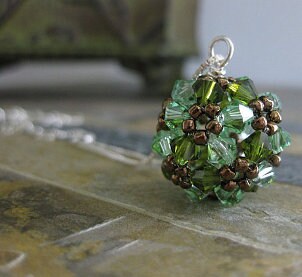 The glowing green gemstones in tourmaline necklaces are stunning. Green tourmaline gemstones reflect the beauty of nature; their hues will remind you of grass, trees and forest lagoons. Tourmaline is one of the birthstones for those born in October, but anyone can appreciate the gorgeous shades of tourmaline jewelry. Green tourmaline necklaces are versatile; you can wear your tourmaline necklace with a variety of clothing and jewelry selections. Tourmaline is mined largely in the United States, Brazil, Africa and Afghanistan, and the gemstone is durable enough for daily wear. Invest in a beautiful green tourmaline necklace for your jewelry collection or choose green tourmaline gemstone jewelry as a spectacular gift. Our fashion tips will help you wear green tourmaline with flair.
Accessorizing with a Green Tourmaline Necklace:

Pick your style: Gemstone jewelry is available in many different styles. When shopping for a gemstone necklace, consider your fashion and wardrobe preferences and choose green tourmaline gemstone jewelry that you will want to wear regularly. A beaded tourmaline gemstone necklace offers a casual, bohemian vibe, while a large green-tourmaline pendant is dramatic and works well with formal outfits. Green tourmaline gems are often set into valuable precious metals, such as gold and platinum. Sterling silver tourmaline jewelry is also available and offers a sparkly look for less.

Accent your clothing: Green tourmaline offers gorgeous, rich hues. To make the most of your tourmaline necklace, use its green shades to bring out accent colors in your clothing. A beaded tourmaline necklace shows off green leaves in a floral-print skirt and gives you head-to-toe style. Wear your green tourmaline necklace with an emerald ring or pair of peridot earrings.

Make the necklace stand out: Green tourmaline is gorgeous, and it is important to showcase your jewelry investment. If your green tourmaline necklace has a large gem, make it the focal point of your outfit by choosing petite bracelets, rings and earrings. You can also draw attention to your green tourmaline necklace by keeping your wrists, fingers and ears bare.

Get personal: The jewelry you wear should always reflect your personal tastes and style preferences. You can make your tourmaline jewelry unique and wear it differently each time you put it on. Try stringing your green tourmaline pendant onto a black leather cord for a look that is natural and masculine. You can wrap a long, beaded tourmaline necklace around your neck several times or even wear it on your wrist. Think outside the box to personalize your look with green tourmaline jewelry.

Buy Tourmaline Necklaces
Back to Guides Directory