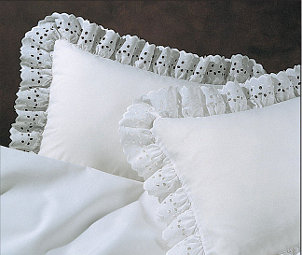 For an easy way to switch up the look of your home, turn to pillow shams the next time you have a home makeover project in mind. Made to fit over bed pillows or accent pillows, decorative pillowcases typically feature an opening in the back or on the side so you can discreetly cover pillows and then take them off easily for washing or sleeping. Besides the standard pillowcases that come with bedding sets and are made to fit bed pillows, you can also find pillow shams in a variety of sizes for unique decorating. Keep reading to learn how to accent your bedding with pillows shams in every size and style.
Decorating with Pillow Shams:

Body pillow shams: Body pillows are ideal for decorating daybeds and futons. These long pillows allow you to keep the discreet look of a couch while providing a little extra cushioning for sitting or relaxing. Cover body pillows with decorative body pillow shams and you won't have to worry about cleaning them since body pillow shams are easy to remove if you need to wash them or guests need a place to sleep. For a contemporary feel, slip on a microsuede body pillow cover that will make your bed look like a sleek piece of modern furniture.

Euro pillow shams: Square Euro-sized pillows create a dramatic look when placed on a bed or the floor. These overstuffed pillows are often a focal point of your bedding, so make sure they're covered stylishly with euro pillow shams. Pair a tailored euro sham with solid-colored bedding for a clean look that makes your bedroom feel like a relaxing getaway or pick patterned euro pillow shams that match your whimsical decor for a more unique feel.

Throw pillow shams: Changing throw pillows is the quickest way to change the look of your bedding, and it's simple to give them a new look with throw pillow shams. Throw pillow shams can be placed over current throw pillows or stuffed with throw pillow inserts and tossed on the bed for an extra dose of color or texture. For a homey look, try a quilted pillow sham in warm tones. If you prefer a vintage look, look for floral decorative pillow shams in a color that coordinates with your bedroom.

Buy Pillowcases
Back to Guides Directory