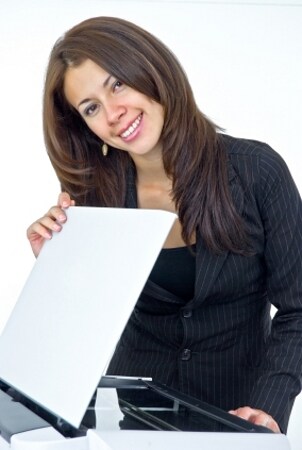 When you're ready to make your office even more productive, a durable multifunction printer can make all the difference. Samsung printers and scanners are one of the best ways to merge multiple office electronics into a single device, keeping your office functions centralized in a compact space. Below are some ideas on how using a Samsung printer can complete your office and boost your productivity.
Using Samsung Printers:

Fast printing: Samsung laser printers can produce more pages per minute than regular inkjet printers. If you find yourself printing a lot during the day, you can consolidate precious waiting time by choosing a quick and efficient Samsung printer that prints as fast as 30 pages per minute.

Scanning and faxing: Separate scanners and faxes require their own maintenance, space and network connections. It makes more sense to centralize fax and scanning functions with multifunction Samsung printers. You can scan, copy, print and fax from the same machine. Having one device also simplifies usability, since you only need to learn the software and controls for one printer.

Reduced cost-per-page: Having a single device means you only have to worry about toner and paper compatibility with one device. Using Samsung printers allows you to maintain and supply a single machine rather than several. Samsung laser printers also have lower-per-page printing costs.

Print without a computer: Samsung printers have multiple connectivity options, allowing you to print documents directly from a USB drive, memory card or other media device. You can even adjust print settings directly from the control panel.

Networked printing: If you have a home network or wireless network, you can simply connect your Samsung printer with an Ethernet cable and use it with any device connected to the network. Many Samsung printers even feature wireless and Bluetooth capability.

Buy Samsung Printers and Scanners
Back to Guides Directory