Hot Tub Buying Guide
by Staff Writer
Nothing is more relaxing after a long day than sitting in your very own hot tub or spa. A hot tub can soothe away the stress of everyday worries as well as the aches that sometimes come from physical activity. After work or after play, you can't beat the feeling of relaxing in a hot spa. With all of the choices in hot tubs, you may be unsure about which hot tub to choose. Here are a few things you'll need to consider when selecting your hot tub.
What You Need to Know: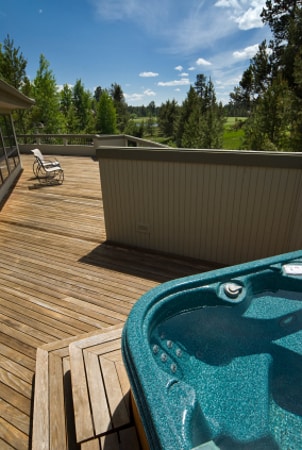 Shop Hot Tubs and Spas ▸
Type of hot tubs:

There are two kinds of hot tubs: portable spas and permanent spas. Portable spas are self-contained and sit above ground; almost all hot tubs you can buy online are portable spas. Permanent spas are built in-ground and are usually made of a material such as cement, which is poured in, like an in-ground pool.

Capacity:

Hot tubs can hold a certain number of people; the capacity will be listed in the product description. Make sure to get a hot tub that is large enough to hold everyone you want it to. For example, if you have six people in your family, you may be disappointed with a hot tub that only holds four people.

Location:

Before you choose a hot tub, decide where you want to place it. Most people like to have their hot tubs on a deck or patio, but the most important thing is to find a spot that is close to an electrical outlet and is level and sturdy enough to hold a hot tub full of water. Be sure to measure the area where you want to put the hot tub and choose one that will fit there, and consider how much walking room you'll need around it.

Appearance:

Hot tubs are available with different interiors and exteriors. Choose a color and style that will be pleasing to you and that will look nice in your backyard. Of course, if there is a hot tub that is perfect for you except for the exterior, you can place potted plants around the outside to camouflage it a bit.

Jets:

If you are concerned with the amount of massaging power that a hot tub has, you'll want to choose a hot tub with the highest number of jets that you can find. Many hot tub jets are adjustable; you'll want the jets to point at your major muscle groups to get the most out of the hydrotherapy.

Extras:

All hot tubs should have a cover to keep the heat inside, and many people prefer a locking cover. Use a locking cover when you need to keep people out of your hot tub, such as small children. Hot tubs with aromatherapy add another type of therapy to the experience; if fragrance is important to you, you may enjoy this feature. Hot tubs which feature waterfalls can be very attractive, and the splashing sound can be very soothing.
Tips from Overstock™
Create an oasis. With the discounts on hot tubs at Overstock.com, you can turn your whole backyard into a spa retreat. Add to the look with garden decor. Surround your hot tub with wind chimes and plants on stands. Finish it all off with an outdoor rug. Remember that, when you have it all shipped together, you'll save even more money.
If you aren't sure if you want a hot tub outside or you want to continue the relaxation inside your home, you'll love the jetted tubs, saunas and steam rooms here at Overstock.com. With our low prices, it's easy to have bubbles, jets and steam in your bathroom and on your deck.