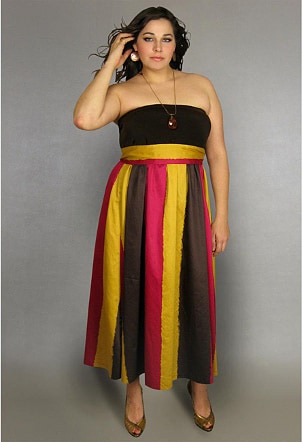 Women's plus size clothing may once have been oversized and frumpy, but today's styles are anything but. Focusing on current trends and figure-flattering cuts, plus size clothing is just as fashion-forward as any other area in the fashion industry. Read on to learn about the hottest trends in plus sizes so you can fill your closet with all the most flattering clothing for your figure.
Trends in Plus Sizes:

Tunic lengths: Longer tops are big in fashion right now, and plus sizes are no exception. Tunics and tunic-length shirts Tunics are also great for plus sizes because they elongate the body while providing a slimming effect. If you have an hourglass or pear body type, longer tunics can help disguise fuller hips and thighs. Wear tunics with skinny jeans, leggings or tights to keep a slim silhouette.

Big prints: Bold prints and bright colors have hit the runways lately, and the look can certainly translate into plus size clothing as well. The key to wearing prints in plus sizes is to look for large prints. While microprints are in right now, the repetition of a small print can create the impression of more space, making you look larger. On the other hand, large prints do just the opposite and can actually make you look slimmer. Try a printed top with skinny jeans or go for the mixed-print look with a floral cardigan over a striped shirt.

Wrap dresses: Everyone loves a dress that makes you look great, and for plus sizes, wrap dresses do just that. The cinched waist of a wrap dress flatters your curves and creates an hourglass figure. If you have wider hips, choose a wrap dress with a full or straight skirt to help disguise problem areas and draw attention to your waist.

Nautical and military: These classic looks are not only in style right now, but seem to never go out of style. As an added benefit, nautical and military styles can be extra slimming. The horizontal stripes of a nautical top reduce the illusion of width and can hide problem areas. A double-breasted military jacket can do the same by drawing a narrower line through the body. Pair a striped top with wide-leg jeans or try a military-inspired jacket with a slimming pencil skirt.

Buy Plus Sizes
Back to Guides Directory