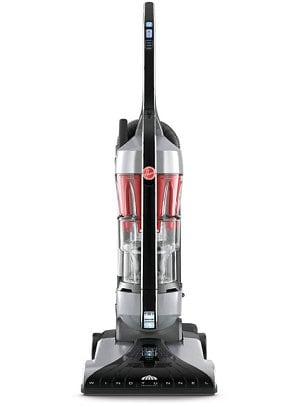 It's easy to keep the carpet clean when you buy quality Hoover vacuum cleaners. Whether you need a simple Hoover cordless vacuum for light cleaning or the sturdy Hoover Windtunnel vacuum for heavy dirt and dust, you're sure to find durable vacuums to keep your floors spotless. Read on for facts about Hoover vacuum cleaners and tips on buying the best vacuum cleaner for your home.
Hoover Vacuum Facts:

Hoovers have been around for a century. Since 1908, when W.H. Hoover bought the first upright-vacuum patent from inventor James Murray Spangler, the Hoover Company has been manufacturing quality vacuum cleaners. While the Hoover upright vacuum built in the early 1900s was much different from the Hoover canister vacuum sold today, Hoover is still known for its innovative vacuum cleaners, including the Hoover cordless vacuum, in the United States, Europe and Australia.

Hoover isn't limited to vacuums. While famous for the Hoover upright vacuum, Hoover also manufactured washing machines and dryers in the United Kingdom and Ireland until 2009. Hoover also makes spot cleaners for carpets and rugs in addition to the traditional Hoover vacuum sweepers available everywhere.

Hoover sells vacuums in all sizes and price ranges. If you don't have the budget or space for Hoover Windtunnel vacuums, you can still find the best vacuum cleaner for your home by browsing Hoover vacuums. Buy a Hoover canister vacuum that is easy to store or find a Hoover stick vacuum that also works on hardwood floors and fits into the smallest closet.

Hoover produces specialty vacuums for the home. There's no need to buy a steam cleaner when you have a Hoover steam vacuum. You can deep clean your carpets easily with the included cleaning detergent and brushes. If you want a more high-tech Hoover steam vacuum, look for a SpinScrub model that scrubs carpets and other surfaces with cleaning solution and steam.

Hoover vacuums can clean up pet hair and dirt. Cut back on expensive cleaning costs and buy Hoover bagless vacuum cleaners with attachments to grab pet hair, dirt and dust easily. A Hoover cordless vacuum will also allow you to clean up tight spaces in your home or your car. Hoover bagless vacuum cleaners are simple to empty when they get full, you can simply empty the filters for an easy clean-up. Buy Hoover vacuum sweepers with cyclonic action and HEPA filters for extra protection if you suffer from allergies or asthma.

Buy Hoover Vacuum Cleaners
Back to Guides Directory