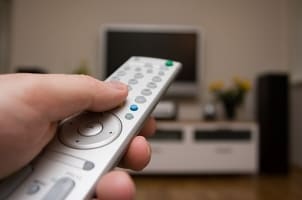 Audio components often include a lot of engineering terminology. The technical terms surrounding home theater receivers, speakers and other audio components can be very helpful when adding surround sound to your home theater. Here are some terms that you'll encounter as you compare surround systems.
Home Theater Terminology:

Surround sound: Any collection of speakers that creates a 3D sound space for your home theater or computer forms a surround sound experience. Most home theater systems are identified with a number that indicates the number of speaker channels it has. For instance, a 5.1 surround sound system has a center speaker and four left and right speakers; these are the five units in the 5.1 designation. A subwoofer takes up 0.1 audio channels, the 1 in the 5.1 designation. Home theaters with 6.1 and 7.1 surround sound have even more channels.

Volume: Sound pressure is measured in decibels (dB) and is known commonly as volume with regard to home theaters. Your ears don't respond to all frequencies equally. The high and low ends of the scale need more volume to achieve the same clarity as mid-range frequencies.

Frequency response: Home theater speakers vibrate at different frequencies to create sound. Your ears can hear frequencies from around 20 hertz to 20,000 hertz/20 kHz (1 kilohertz equals 1,000 hertz). Frequency response is the range of tones your home theater speakers can make.

Speaker Frequencies

Tweeters: Up to 20 kHz.

Mid-ranges: 500 hertz to 3 kHz.

Woofers: 50 hertz to 200 hertz.

Subwoofers: 20 hertz.

Impedance: Impedance is another term for electrical resistance, measured in ohms. Wires and microchips impede the flow of electricity. Home theater amplifiers and speakers are usually rated at 4, 8 or 16 ohms. A home theater system with lower impedance can supply more power to the speakers. Mismatched home theater components can damage one another, so it's best to match the impedance of your speakers to that of your home theater receiver.

Power: This term refers to the power of your home theater speakers; specifically the amount of electrical energy each speaker can handle before being damaged. Measured in watts, it varies with the size of your home theater system.

Home Theater Power

Normal (RMS): A home theater run at normal power will have low sound distortion and high sound fidelity without damaging the speakers.

Maximum power: Your home theater's maximum power is typically double the RMS power. Running your home theater and speakers at or near maximum power will cause them to wear out more quickly.

Sensitivity: The home theater sensitivity rating measures speaker efficiency, or how much volume a speaker puts out at a given voltage. The higher your sensitivity rating in decibels (dB), the less electricity it takes to produce the same volume.

Signal-to-noise ratio (SNR or S/N): This ratio is related to sound clarity. As your home theater decodes sound data from DVDs, CDs and TV signals, it introduces distortion -- or "noise" -- into the audio signal. A good home theater system produces less noise, so a high S/N ratio indicates less distortion.

Total harmonic distortion (THD): THD is similar to the S/N ratio because it measures distortion as well. THD is expressed as the percentage of distortion within the total sound. A good home theater has a THD around 1 percent. High-quality home theater systems feature THD below 0.1 percent.

Buy Home Theater Systems
Back to Guides Directory