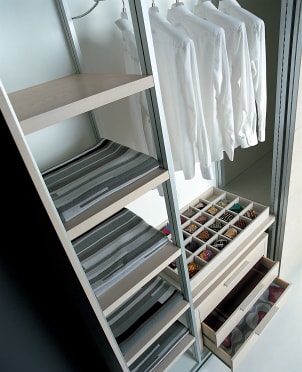 With the right storage and organization solutions, you can have a proper place for everything in your home. This reduces clutter and makes your home look and feel better than ever before. This guide will help you find the organizational solutions that will best meet your needs.
Kitchen Storage Solutions:

Appliances: An appliance garage is a great idea for reducing the clutter of small appliances on your countertops; it sits on your countertop and keeps your small appliances neatly tucked away until you need them. Another option is to install a Lazy Susan in one or two of your cupboards; it makes everything in the cupboard easily accessible with a rotating mechanism to move items from the back of the cupboard to the front. If you have more floor space than cupboards, add a free-standing steel shelf unit; it has the look of a professional kitchen and will give you lots of room for unused appliances or large pots and pans.

Pots and pans: If you want to free up more space in your cupboards, install a hanging pot rack. Pot racks not only look great in a kitchen; they're also extremely convenient, keeping your pots and pans accessible.

Pantry storage: Keep your pantry organized with space-saving shelves, storage canisters, cookie jars, and storage containers to keep your food storage fresh and accessible.

Wine storage: Don't forget to include wine storage. Wine racks not only allow you to store your wine in an organized way, but they also store it in a way that preserves the taste and keeps the cork from drying out.
Closet Storage Solutions:

Shoes: Getting your shoes under control is a huge step toward a clutter-free closet. If you don't have room for shoes inside your closet, look for a free-standing shoe cabinet with doors to keep your shoes out of sight; an open shoe shelf can sit inside a closet. Hanging shoe organizers -- for over the door or over the rod -- are good when you don't have any floor space available.

Clothes: Closet storage systems can make any closet look like a professional, custom-built closet. Closet systems are also perfect for open floor plans and loft spaces that don't have a traditional closet. With a closet system or closet organizer, you can design the perfect organizational solution for all your clothes with shelves and multiple clothing rods.

Accessories: Over-the-door organizers are excellent for small accessories or handbags. If you're building out a closet organization system, include a few pull-out baskets for purses or scarves. Wall-mounted belt and tie organizers are also a good addition to a closet.
Outdoor Storage Solutions:

Sheds: Keep all your yard tools protected and free up space in your garage for other items. Outdoor storage sheds come in a wide variety of different sizes. For larger objects, like a riding lawn mower or a motorcycle, consider purchasing a full-size storage shed. For small garden storage, shop for a small shed that fits against your fence.

Deck storage: Incorporate storage into your deck with storage bins or storage benches. Some are even waterproof, making them the perfect place to store tools, sports gear, and throw pillows from your patio furniture when it's raining or snowing.
Garage and Basement Storage Solutions:

Tools: Whether you use your garage or basement for a workshop or strictly for storage, you'll need to put away all of your tools. A cabinet storage system is one of the best ways to use wall space. You can create the organizational system for your garage or basement storage that makes the most sense for you.

Sports equipment: A storage unit meant for balls, bats, and other sports gear is a smart addition for any garage or basement. You can look for one to incorporate into a larger storage system or shop for a free-standing organizer. Some even have drawers for small items, like golf balls, and shelves sized for cleats or spikes.

Holiday decor: If you want to ensure that your holiday items remain pristine until next year, store them in holiday storage containers that are designed to pack your ornaments and holiday decor in such a way that they don't get damaged during the year.
What Do You Want to Do Next?

Shop Closet Storage
Shop Garage Storage
Shop All Storage & Organization
See All Guides
Read More Home Guides
Learn More about Storage & Organization