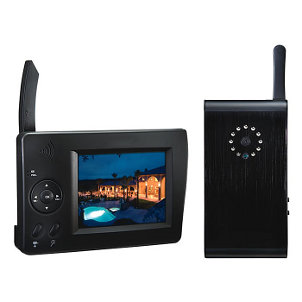 A monitored home is a safe home, but you don't need to turn your house into a fortress in order to be secure. For most homeowners, some basic surveillance equipment is enough. These home security solutions are fairly simple to install, and the peace of mind you'll get will be well worth the effort.
Home Security Equipment:

Motion sensors and entry alarms: Internal and external alarms with window and door sensors are the most basic security components, and they require the least invasive installation. Some door sensors can be set to beep each time they are opened, and others just sound an alarm when there is an intrusion. Window sensors that trigger if a window is opened or broken are also available. Motion sensors can be set to activate alarms, cameras, or other security measures; if you have pets who stay inside when you aren't home, look for a system with a minimum weight requirement for activation.

Interior and exterior cameras: You may want to install security cameras to monitor key entry points and approaches to your house, as well as sensitive interior sections of your home. Infrared cameras can capture video even in poorly illuminated areas, and swiveling models can be programmed to pan and record a specified path, so your surveillance area is not limited by the angle of the camera lens. The number of cameras you use is only limited by the capacity of the security system they are connected to.

DVR and security monitors: Digital video files are the simplest way to record and manage video surveillance from your security system, and a security DVR with a few hundred gigabytes of storage space can store dozens of hours of compressed video from your cameras. Once networked to a computer or wireless router, compatible DVRs can give you access to video files through smart phones and other wireless devices. You can even remotely access live video feeds over the Internet while you are away from home. For more information, read our guide on using a DVR with a security system.

Cable connections and power sources: Wired CCTV connections are the most reliable for providing a clear signal between your DVR and security cameras, though they do require a more involved installation. Wireless surveillance systems can help you avoid installing cables in difficult areas, but all of your cameras will still need access to an electrical outlet or other power source in order to record. Make sure the CCTV cables you choose have connectors, such as BNC connectors, which are compatible with your DVR's video input ports.
What Do You Want to Do Next?

Shop Security Cameras
Shop Security Systems
Shop All Surveillance
See All Guides
Read More Electronics Guides
Learn More about Camera & Photo