Home Gym Buying Guide
by Stephanie Petersen
Getting in shape is important for your health, and a home gym is one of the best ways to reach your fitness goals. Joining an expensive gym can be a hassle, but you can avoid the crowds and save some money by creating your own home gym. Are you unsure of which pieces of home exercise equipment to buy? This guide has tips that will help you evaluate your options, so you can start your home gym that will help you reach your goals.
Buying Home Gym Equipment: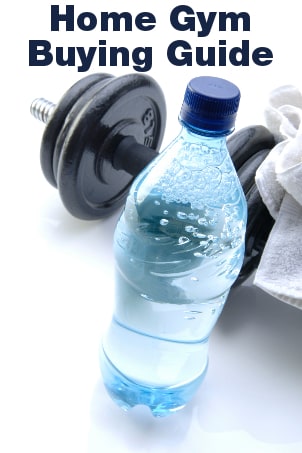 Shop Weights & Machines ▸
Think about your fitness goals:

You'll want to include everything you need for a complete workout in your home gym.

A warm-up with stretching

Aerobic, cardiovascular training

Strength training

A cool down with more stretching

Evaluate what your workout is lacking:

For example, if you like to run outside, consider adding a weight machine to your home gym to help you with strength training. Or, if you already have weights, add a treadmill or another exercise machine that will give you a cardio workout. And if you need help stretching, consider adding Pilates equipment.

Look for machines with features that will help you reach your goals:

Monitors give you information about time, distance, calories burned, and more. Some include programmable routines. Make sure the equipment you choose has all of the information that you are interested in knowing.

Remember the practical considerations:

These are the basics of buying exercise equipment. You should be able to find out all this information in the product descriptions.
Home Gym Machine Basics:
Weight limits are given on all gym machines. Make sure the one you choose can support you safely.
Space is required to use and store home fitness equipment. Make sure to consider how you'll fit when on your exercise machine. If you plan on using an elliptical trainer in a basement, plan for your height while standing on the pedals. You'll also want to measure the floor space where you plan to place your equipment.
Assembly is required for most gym machines. Be sure to consider your abilities (or if you'll be able to find a helper) when making your choice.
Popular Home Gym Machines:
Elliptical trainers:

Elliptical trainers allow you to move in a walking or running motion, with your feet creating an oval-shaped action. Your feet do not leave the pedals, which creates a low-impact workout; beginners and those with sensitive joints will appreciate this.
What to Look for in an Elliptical Trainer
Most elliptical trainers use some electricity to power the monitor, but the movement is mainly driven with your feet.
If you would like to use your elliptical in forward or reverse motions, find one that will do both. You may pay a bit more for this feature.
Many elliptical machines also have handles that coordinate with the pedal movements, providing a complete workout for the upper and lower body. If you choose a machine without handles, you can hold hand weights while you work out.
Make sure the size of the elliptical can accommodate your stride length. Newer models have adjustable stride lengths, which studies have shown may increase the calories burned on an elliptical.
Exercise bicycles:

An exercise bike offers a cardio workout in your home with the same smooth movements of a regular bicycle. Because you can adjust the resistance, you can vary the amount of calories you burn, making the workout very efficient. All exercise bicycles should allow you to adjust the seat to ensure a proper fit. You will have various ways to adjust the tension on an exercise bike; some require you to stop and get off while others can be adjusted during your workout. There are three kinds of stationary bicycles to choose from.
Types of Exercise Bikes
An upright exercise bike lets you sit in the same upright position as a regular bicycle.
A recumbent bike lets you sit back with the pedals stationed in front of you instead of underneath you. This creates a very comfortable workout for people with back pain.
A dual-action stationary bike has handles you can move while you pedal, so you can get an upper-body workout as well as a lower-body workout.
Treadmills:

Treadmills remain the most popular home fitness equipment. All you need to know to use a treadmill is how to walk or run; the treadmill takes care of the rest. When you love the workout you get from a run or brisk walk but just can't get outside, these are the gym machines for you. Burn calories, build muscle, lose weight, strengthen your heart, and feel healthier with a treadmill. For more information about shopping online for treadmills, read our Treadmill Buying Guide.
Types of Treadmills
Programmable treadmills: Many treadmills let you set the speed and incline for your walk or run. Some will come programmed with routines with varying speeds and inclines. Changing your routine will help you burn more calories because your muscles won't get too used to one routine.
Manual treadmills: If you'd rather not deal with a lot of settings, you can shop for a manual treadmill. Manual treadmills are less expensive because they don't have as many added features.
Folding treadmill: If you want to put away your treadmill after your workout, choose a folding treadmill, so you can slide it under the bed or into a closet.