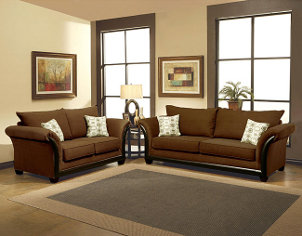 Upgrading your living room's look means picking the perfect sofa. Loveseats and sofas are a necessary and complementary addition to any home. Over the years the loveseat has evolved into a natural addition to living rooms across the world. It might surprise you that the loveseat, or settee, was once a new and innovative piece of furniture. Sofas and loveseats have come a long way since then. Keep reading for the latest installation on the history of the sofa, loveseats and other living room furniture.
Evolution of the Loveseat:

Origins of the loveseat. Contrary to popular belief, the loveseat wasn't invented so two lovebirds could sit close to each other and gaze into each other's eyes. Instead, the loveseat or settee was invented so women could sit and comfortably arrange their fashionable gowns. The woman's dress code of the 17th and 18th centuries involved a massive amount of hoops and fabric. The extra wide seat of the loveseat was invented in order to accommodate a single woman and her dress. In addition to the wide seat, early loveseats also had high backs and armrests. These sofas were designed to be more fashionable than comfortable.

Loveseat evolution. The first loveseats were made from dense wood and could easily weigh over 100 pounds. In addition, sofa loveseats had very little cushions or padding of any kind. This heavy furniture was eventually replaced by lighter versions. Upholstery and padding were eventually added as well, and as dress volume shrank, more people could fit on the small sofa. Loveseats grew in size as the popular seating craze caught on. Manufacturers increased the size of the loveseat so two to three people could sit there at a time.

Today's loveseat. Over time, new ideas for living room fashion have changed the loveseat into what it is today. While many loveseats are still made from wood and fabric, the modern movement inspired a new kind of sofa and loveseat. Modern sofas and loveseats use metal for the legs and frame instead of wood. Loveseats are also available in many types of upholstery, such as microfiber, leather, corduroy, twill, vinyl and cotton. Today's loveseat can fit into just about any home, style and budget. The loveseat has successfully transformed itself from uncomfortable seating to a welcoming and complementary piece of living room furniture.

Buy Sofas and Loveseats
Back to Guides Directory