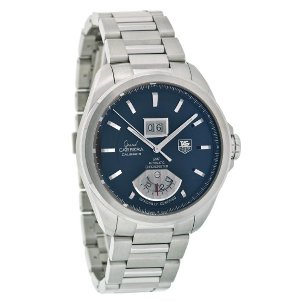 From a small workshop in the Swiss mountains to an empire at the forefront of classic luxury watches, TAG Heuer watches have managed to constantly evolve since the company began in 1860. Today, TAG Heuer represents a quality timepiece that combines elegance and innovation to create an accessory that makes a statement. To learn more about the timelessness of TAG Heuer watches, take a look at the history that got them there.
History of TAG Heuer Watches:

Founder Edouard Heuer started the company in 1860. Originally called Heuer, the famous watch brand's development was also aided by Heuer's sons Jules-Edouard and Charles-Auguste.

In 1914, Heuer introduced its first chronograph watch. Using a patent that Edouard Heuer invented in 1882, the company began producing high-quality chronograph watches that put them on the map as a reputable Swiss watch brand.

Heuer began producing watches exclusively for Abercrombie & Fitch in 1950.The Heuer company partnered with the American retailer in the '50s to introduce the "Seafarer." Featuring special dials that showed the high and low tides, the Seafarer could also be used to track the phases of the moon.

In 1962, Heuer became the first Swiss timepiece to go to space. Astronaut John Glenn wore a Heuer stopwatch when he piloted the first U.S. manned space flight to orbit the earth. It currently remains on display at the San Diego Air and Space Museum.

In 1969, Heuer introduced the world's first automatic chronograph watch.Heuer formed a partnership with Breitling and Hamilton in order to introduce a new era of watch-making. Together, the companies worked to secretly produce a new line of automatic chronograph watches that was presented during press conferences in New York and Geneva.

TAG Heuer was officially formed in 1985.The watch brand-name we know today became TAG Heuer when it was bought by Techniques d'Avant Garde, makers of ceramic turbochargers for Formula One racecars. Their merge ushered in a new motto for the watch brand-name: "Swiss Avant-Garde Since 1860."

TAG Heuer won an iF product design award in both 2006 and 2007.Chosen from more than 2,200 entries, both the Monaco Calibre 360 LS Concept Chronograph and the Professional Golf Watch took top honors in the leisure/lifestyle category for their contemporary designs that combine luxury watch style and sports watch durability.

Buy TAG Heuer watches
Back to Guides Directory