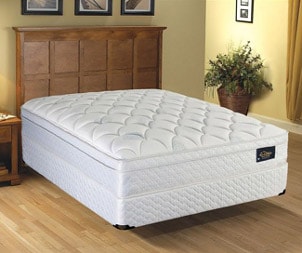 Established in 1926, Spring Air mattresses were originally designed to provide a sleeping surface that adjusts to your weight. Today Spring Air continues to make mattresses that are both affordable and comfortable. As the nation's fourth largest mattress producer, Spring Air is constantly producing new technology that makes your Spring Air mattress innovative and inexpensive. To see how this company got its start, read this short history of Spring Air mattresses.
Spring Air Mattress History:

The beginning. Founder Francis Karr aimed to make a mattress that would use traditional innerspring technology while providing a whole new way to sleep. His free-end coil design supported the weight of an individual sleeper and supported common pressure points for a bed that corresponds to each sleeper's individual needs. Spring Air was one of the first mattress brands to recognize that each person sleeps differently and the importance of integrating unique coil design into beds.

Get into the zone. Using what they knew about body zones and the way we sleep, Spring Air began producing the Health Center mattress in 1953. This innerspring mattress used different coil heights and firmnesses to make a bed that worked with the human body and felt natural to sleep on. Spring Air mattresses still feature the coil technology that helped build the brand into a trusted name, with a few minor updates and improvements.

The softer side of Spring Air. In 1973, Spring Air introduced the pillow-top mattress. A standard in bedrooms today, the pillow-top mattress added an extra layer of foam or cotton batting to the design for people who prefer a plush sleeping surface. The luxurious feel of a pillow top has now become standard for most Spring Air mattresses.

Modern mattress manufacturing. Today, Spring Air has production plants in 32 countries worldwide and 13 domestic factories. In addition to pillow-top innerspring mattresses, Spring Air continues to make history with a line of luxury mattresses that come equipped with plush cashmere batting and an eco-friendly mattress line made from latex. Popular Spring Air mattress models are made in sizes from twin to California king for your convenience.

Buy Spring Air Mattresses
Back to Guides Directory