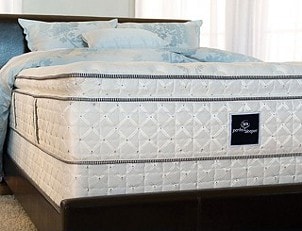 Founded in 1931, Serta mattresses are some of the most popular mattresses in the world. Serta is currently the second largest mattress brand in the United States and has made a name for itself producing both latex and inner-spring mattresses. Serta mattresses are so beloved that certain hotels furnish their bedrooms exclusively with the brand. Serta devotees can rest assured that when they stay at any Hilton or Wyndham hotel, they'll fall asleep each night on a comfortable Serta mattress. To learn more about the popular mattress brand, check out the history of Serta Mattresses.
Serta Mattress History:

The early years. Serta Inc. was established in 1931 and manufactured their first mattress, the Serta Perfect Sleeper, in 1932. Despite the failing economy, Serta stayed in business and continued to grow across the U.S. through the Great Depression.

In 1976 Serta unveiled the industry's first pillow-top mattress. After years of research and development, Serta released the Pillow Soft mattress. This new mattress innovation combined a standard spring mattress with a pillow-like exterior and became the first known pillow-top mattress to ever be manufactured. It was a huge success and helped make Serta a household name.

Serta introduces a foam hybrid mattress. In 1983 the company updated their classic Serta Perfect Sleeper mattress with a layer of convoluted foam. Coupled with new continuous-coil innerspring technology, this mattress was top of line during its time. Though far from the memory foam mattresses we enjoy today, this inventive new bed style paved the way for luxury beds everywhere.

Serta explored new technology during the 1990s. After opening a research and development center, Serta went to work testing equipment that measured pressure points on the body in order to produce the most comfortable mattress. This research led to the creation of a triple-beam bed frame and a line of luxury mattresses, which soon became Serta's most successful product worldwide.

Serta mattresses are still popular today. Serta has expanded to become a world-wide brand with 31 mattresses available in the U.S. and 23 overseas. As the second largest mattress manufacturer, Serta continues to produce mattress that play off the human body and provide a restful night's sleep.

Buy Serta Mattresses
Back to Guides Directory