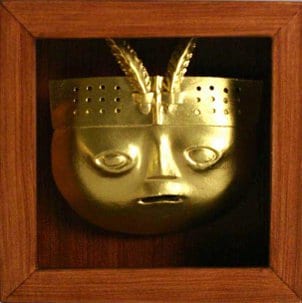 Decorative masks create a well-traveled atmosphere in your home. From colorful and friendly to dark and dramatic, these masks come from various regions all over the world and represent different cultures. Peruvian masks typically use bold colors to depict warriors and gods. Before hanging these carefully crafted masks in your home, learn more about the history behind them.
The History of Peruvian Masks:

Peruvian masks were first used by the Incas. The Inca civilization first settled in Peru around A.D. 1200. They settled along the Andes Mountains and regularly held religious celebrations to honor the sun god. It was during these rituals that the Inca people created the first Peruvian masks. Made from gold, these masks were worn for nine nights during the festival of the sun god.

Animal masks were often worn for hunting. In addition to the gilded masks used to honor the sun god, Incas in Peru also used crude masks shaped like animal faces for hunting. The Inca people used wood, cotton and feathers to create these masks. Archaeologists have found several cave paintings in Peru that depict hunters wearing these masks, suggesting that they were an important part of early Peruvian culture.

In 1576, masks became an important part of Diablada. Also known as Dance of the Devils, Diablada depicts the devil and the seven deadly sins being slain by Saint Michael. There is a heated debate over the origins of the dance; some historians say it began in Bolivia, while others say its roots are in Peruvian culture. Traditionally, the costumes and masks that dancers wear when performing Diablada in Peru are very colorful. The dance is still performed today, and modern Peruvian masks mirror this whimsical style.

Peruvian-mask artisans still use ancient techniques. Besides being used as decorative accessories in the home, Peruvian masks are still used for celebrations and ceremonies by the Peruvian people that descended from the Inca tribe. You can find handmade replicas of both traditional masks that can be used as wall art and artistic renderings of masks, made with copper, that are solely for hanging on the wall.

Buy Masks
Back to Guides Directory