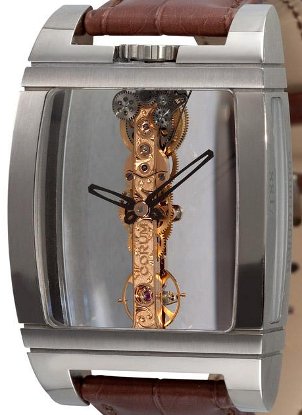 Whether you like unique watches or classic watches, a luxury watch is likely at the top of your list. Corum specializes in limited edition luxury watches for collectors and fashionable individuals. When you own a Corum watch, you own an exclusive piece of art. Corum has been around since 1955 and has a rich history of men's watches and ladies watches with Swiss luxury styling and manufacturing. If you love sleek combinations of engineering and style, then you will enjoy ladies watches and men's watches from Corum. Knowing a bit about the history of Corum watches will allow you to enjoy your luxury Swiss watch even more. Our historical recap will help you get started shopping for Corum watches.
All about Corum Watches:

A play on words: Corum was established in 1955 by Rene Bannwart. He chose the name Corum because he loved the meaning of the word "quorum." The word "quorum" refers to a group of people that is necessary to make legitimate decisions. A quorum is typically a small group, thus allowing a company or club to experience synergy. Corum is a Swiss watch company and was established in La Chaux-de-Fonds, Switzerland, which is the home of many luxury Swiss watch companies.

The beat of their own drum: Corum has refused to conform since the very beginning. In 1958, Corum introduced the first baguette movement, which resembles a tube. The baguette movement first made its appearance in the Gold Tube watch and can still be seen in the Gold Bridge model today. In 1960, Corum developed the first water-resistant watch with a square case. Corum never stopped creating innovative timepieces, from the Romvlvs watch, which was developed in 1966 and had the numerals stamped on the bezel, to the Feather watch, which was introduced in 1970 and was made of authentic bird feathers.

A wide selection: Corum has always enjoyed creating unique timepieces for men and women who appreciate Swiss watchmaking techniques. Today, you can find a variety of watches from Corum, including classic stainless steel models, watches with colorful leather watchbands, bezels and faces and minimalistic watches with geometric dials. When you add a Corum watch your collection, you can be sure that you are investing in artwork.

Buy Corum Watches
Back to Guides Directory