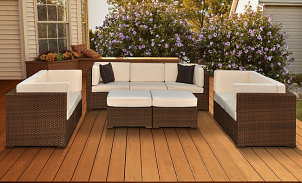 Do you want your garden furniture to be as modern as the decor inside your house? After you've worked to decorate the indoors with the latest trends in home furnishings, you'll want to make the outside match. With these tips, you can make your garden as stylish as your living room.
Garden Furniture Trends:

Fashionable seating: The key to hip outdoor furniture is non-traditional seating. An oversized chaise lounge is sure to look modern, thanks to the large scale. Line up a row of chaise lounge chairs to create visual rhythm as well as a place for you and your friends to relax. Add ceramic stools that can be used as extra seating or as end tables.

Modern materials: Powder-coated aluminum in a cool silver adds a trendy touch. Patio furniture made from acacia wood will also provide an up-to-date look. When a piece of furniture has both of these materials, you'll really make a design statement. Even wicker can be very modern when it is stained a deep brown color.

Clean lines: Sleek patio furniture without a lot of extra decoration will keep the design hip. Consider using chairs with horizontal wood slats and tables with square tops. Place a bench with a squared-off back in a seating group with a few coordinating chairs for an inviting and stylish conversation area.

Eco-friendly choices: Nothing is more hip than using environmentally friendly materials. Bamboo -- an incredibly renewable resource -- is perfect for outdoor furniture because of how well it resists weather. (Read our bamboo furniture buying guide for more information about it.) Another eco-friendly material is teak. You'll find teak benches, tables, chairs, stools and whole dining sets.

Bold color accents: If you love hip decor indoors, then you are probably no stranger to bright hues and bold combinations. Take those same colors outdoors and finish off your patio with vibrant accessories. Mix orange and teal pillows together on a bench. Put a purple umbrella over a table set with yellow plates and cups. Change the seat cushions on your outdoor dining chairs to some with high-contrast stripes to make the whole set look fresh.

Buy Garden Furniture
Back to Guides Directory