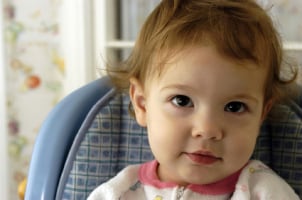 During the first few years of your baby's life, a high chair can make feeding your baby much easier. When you're shopping for a high chair, the most important features to look for are safety and stability. Here are some important facts and safety tips to keep in mind while choosing the right high chair for you and your baby.
About High Chairs:

A high chair can be used as soon as the baby is big enough to sit up by herself unsupported. This is normally around 6 months old but, depending on the development of your child, can be a little sooner or later.

Babies do not like to sit still. To keep your baby securely in her high chair while you're feeding her, you need a high chair with a good safety strap as well as a crotch post to prevent your baby from sliding out under the tray.

Children can be seriously injured if they are not securely fastened in the seat. Do not rely on the tray alone to secure your baby. If your baby is not strapped in, she can stand up and fall out of the chair. Always strap your baby in and make sure the tray is securely in place.

The safety harness should be used every time you put your baby in the chair. Look for a high chair with a harness or security belt that is easy to fasten and unfasten. The easier it is to use, the more likely it is that you will always use it.

High chairs are top heavy, so a high chair with a wide base will be less likely to tip over than one with a narrow base. That being said, if the base is too wide, it becomes a tripping hazard for anyone walking around the high chair.

If you choose a high chair with toys attached to the tray, make sure the toys are fastened securely to the tray and cannot be pulled off and swallowed.

Babies are messy. Before you buy, consider how easy the high chair is to clean. For example, padded fabric seats look, nice but they are impractical for cleaning. Plastic or vinyl seats are easy to wipe down, but pay attention to any hard-to-clean crevices in the tray or on the seat where food can get stuck.
Warning:

Never leave your baby unattended in a high chair.

Buy High Chairs
Back to Guides Directory