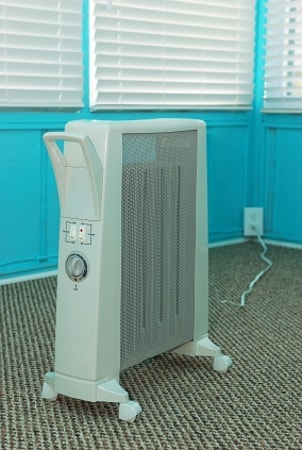 Every home has areas that are always too hot or too cold. Portable space heaters help even out the temperature in your home or office and keep you comfortable. Portable heaters are great heating systems because they make it possible for you to enjoy activities in places your central heating doesn't reach, such as the garage or work shed. Plus, you can turn down your home's central heating and use heaters to heat only the rooms people are using, saving you energy and money. This heater buying guide lists some important features to consider when purchasing a portable heater.
Buying Heaters:

Convection heaters: Convection is the warming and movement of hot air to warm a room. As the air near the portable heater heats up, it rises, creating a vacuum; this movement displaces colder air, which is then sucked into the vacuum and heated. The new hot air rises and the cycle starts over, eventually warming the whole room. Some convection heaters also have fans to speed up the process of warming and moving the air. Space heaters that use convection are most efficient for heating rooms with lots of people in them; they also work well at heating rooms with one or two people moving about frequently. Because convection space heaters warm a room by heating and moving the air, you may experience drafts when using one.

Radiant heaters: Radiant heat works by directing heat onto an object rather than heating up the air around the object. Radiant heaters don't use fans to distribute warm air the way convection heaters do, so your body doesn't lose heat and moisture from the warm breeze. In order for radiant heat to be an effective home heating method, radiant heaters need to be positioned close enough to a person to be able to radiate heat onto that person. Radiant heaters are best for small areas where a space heater is needed to warm one or two people who aren't moving around, such as a couple sitting on the sofa watching TV.

Automatic thermostats: The most convenient electric heater for use in a garage or other work area where you may be busy and focused on other things is a space heater with an automatic temperature control. Automatic thermostats monitor the surrounding temperature and turn the heater on and off accordingly, so you stay comfortable without having to constantly monitor the temperature and turn the heater on and off yourself. Heaters with automatic thermostats are an especially good heating system if you plan to leave the heater on overnight in your bedroom and turn down the thermostat for the rest of the house. Whichever way your electric heater warms the room, make sure it has safety features like an automatic thermostat and tip-over protection.

Buy Heaters
Back to Guides Directory