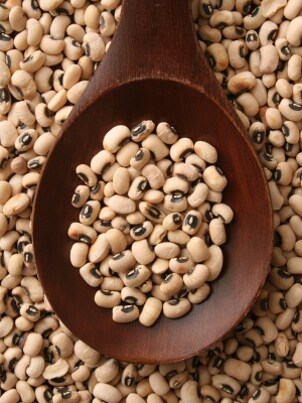 When the clock hits midnight on December 31, it's time to celebrate the start of a new year. Whether you're toasting the new year with a glass of champagne, sharing a kiss, or cheering as the ball drops in Times Square, you're joining millions of people around the world taking part in traditions that celebrate a fresh start.
New Year's Traditions:

Eat black-eyed peas: This American tradition dates back to the Civil War, when crops in the South were being destroyed by opposing soldiers. Black-eyed peas were considered livestock feed and left unharmed by the troops. To celebrate an upcoming year full of luck and prosperity, Hoppin' John, a dish made from black-eyed peas and ham hock, is traditionally eaten in Southern states on New Year's Day. For extra good fortune, try pairing it with cornbread, which is said to represent gold.

Watch the Rose Parade: Held annually in Pasadena, California, the Tournament of Roses dates back to 1890, when people decorated carriages with flowers to show off their sunny Southern California weather on New Year's Day. (The accompanying football game was added in 1902.) Today, the Rose Parade is a televised event that displays elaborately decorated floats -- covered entirely in organic materials -- as they meander down the 5.5-mile parade route.

Sing "Auld Lang Syne": A poem by Robert Burns that is sung to an old Scottish folk song, "Auld Lang Syne," has become a traditional verse sung in English-speaking countries around the world on New Year's Eve. The song is an ode to times gone by and urges people to remember the past with fondness. The song became so popular in the 1940s that New Yorkers said they didn't believe the new year had come unless they heard "Auld Lang Syne" playing.

Celebrate St. Basil: In Greece, New Year's Day is also the Festival of St. Basil, who was one of the founders of the Greek Orthodox Church. It's a Greek tradition to celebrate St. Basil by baking a loaf of bread or a cake with a coin or a trinket inside. The cake or bread is sliced, and a piece is given to every person in the home, from eldest to youngest. Whoever gets the slice with the coin or trinket will have extra luck through the upcoming year.
What Do You Want to Do Next?

Shop Toasting Flutes
Shop Flowers
Shop Overstock.com
See All Guides
Read More Holiday Guides
Learn More about Parties & Decorating