Hard-Side Luggage Buying Guide
by Jessica Gezon
If you're going on a long trip, you know you'll have lots of gear to take along. When choosing luggage there are many options available, including hard-side and soft-side versions of the same suitcase. Soft-side luggage tends to weigh less than hard-side suitcases, while hard-side luggage is more durable, offers more protection to its contents and provides greater security. If you've selected hard-side luggage or considered it, then keep reading about all the features available to you.
Buying Hard-Side Luggage: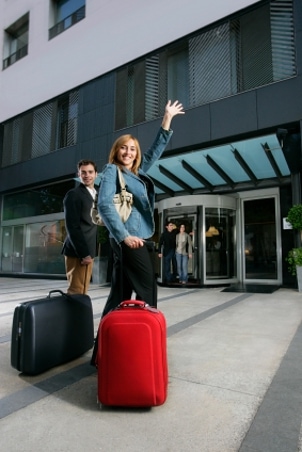 Shop for Hard-Side Luggage ▸
Materials:

There are a few main materials from which hard-side luggage can be constructed: aluminum, polycarbonate, ABS, and polypropylene. Aluminum hard-side luggage has been around longest and is well-established as a sturdy material for luggage. Polycarbonate is newer on the scene, but it displays many of the same characteristics as aluminum. Aluminum hard-side luggage will always be classic; it's a look you can count on. Polycarbonate luggage opens up a wider variety of colors and patterns than aluminum, without sacrificing security. Polycarbonate is a more durable material than ABS, and therefore more expensive. Polycarbonate is also lighter than aluminum, but heavier than ABS.

Interiors:

Hard-side luggage has a reputation for a Spartan interior design, but modern hard-side luggage has all the features of its soft-sided counterparts. To make packing easy, choose hard-side luggage with dividers, pockets, and straps to hold things in place. Seasoned business travelers swear by hard-side luggage because it protects carefully cleaned and ironed suits and other clothing from wrinkles and stains during travel. Careful packing can have you arriving with your wardrobe in the same shape you packed it.

Features:

Hard-side luggage has come a long way in terms of features. You can find hard-side luggage with attached carrying handles, telescoping handles, and even spinner wheels. Don't settle for vulnerable soft-side luggage in exchange for useable features: Now you can have the best of both worlds. Hard-side luggage is available to you in any color imaginable, and with new coatings, the shells are scratch- and dent-resistant. Many hard-side suitcases now come with TSA-approved locks; these allow access to the contents of your luggage to trained TSA professionals but keep the contents safe from prying amateurs. A suitcase is only as strong as its components, so spring for a quality zipper (metal is the best) that will do your hard-side suitcase justice.

Weight:

Hard-side luggage, no longer back-breaking heavy, is now crafted of lightweight materials, so it's just as portable as other luggage. Hard-side luggage is also available in sets; for each trip, choose the smallest size that will accommodate the necessary clothing and accessories and you'll lighten your load even more.

Bottom line:

Price levels for hard-side luggage are based on composition. ABS is the lowest level, polycarbonate is mid-range, and aluminum is the highest level of hard-side luggage. These levels apply to weight, durability, and price. Any of the materials can be a good option; weigh how much durability you need from your luggage against how much you want to spend and choose the combination that's right for your travel needs.