Golf Clothing Buying Guide
by Staff Writer
In the world of sports, there are few known for being stylish. Golf has that distinct honor, with its "uniform" of plaid golf clothing and origins in Scotland. But golf, which stands for "gentlemen only, ladies forbidden," doesn't require plaid kilts anymore -- and it isn't restricted to men. Today's golf clothes and golf shoes come in many different styles and colors for both men and women. This buying guide is designed to help you find the right golf apparel for the climate, the course and your personal tastes.
Buying Golf Clothing and Shoes: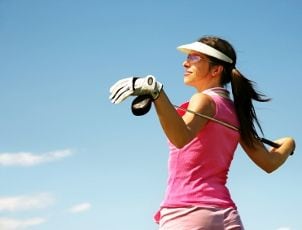 Shop Golf Equipment ▸
Think casual.

Casual golf clothes are appropriate when you're golfing with friends and family. You aren't conducting business on the golf course, so dressy golf attire isn't necessary. A pair of khaki shorts and a simple polo shirt will keep you comfortable. Wearing denim is usually not appropriate for golf pants or golf shorts, however, no matter how casual the game is.

Dress to impress.

If you are playing with others from your office, including your boss, make sure you show up for the game looking sharp. Wear starched linen pants and collared golf shirts with "tails" that are slightly longer in the back (to keep your shirt from coming un-tucked) and short sleeves for ease of play. Add a golf jacket or vest if the weather is chilly. Also, remember that there are still private country clubs that have a dress code for both men's golf clothing and women's golf clothing.

The long and short of it.

Wear shorts designed for golf to look professional. Avoid cut-offs, gym shorts and golf shorts that hit much higher than the knees. Shorts with cuffs are also too casual for a golf course. Wear pants with belt loops and no cuffs; cuffs trap dirt, and if you spend any time in sand traps, you'll end up tracking dirt home.

Slip into your socks.

Wear socks that match your style. If you are wearing long pants, your socks should match your trousers. Wearing socks with shorts can be tricky. Light-colored socks with white or saddle-style shoes and black socks with black shoes are among the best combinations. Your socks can have patterns, though you'll want to wear patterned socks only with solid-colored golf shirts and golf pants.

Get great accessories.

Wear a leather belt with both men's golf clothing and women's golf clothing, especially if you want a more formal look. A narrow black or brown belt will look nice with any golf clothing. A hat will complete your ensemble, especially a stylish baseball cap made of canvas or a tennis-style hat with a wide brim.

Weather the storm.

Wear golf clothes appropriate for the weather: If you are playing an early morning game in inclement weather, wear a golf sweater, a golf vest or a golf jacket. Remember that for any article of clothing, you want to pick clothing that is comfortable for you. Because of the swinging movements and bending in golf, you'll need to buy golf apparel that is a bit loose. You want to be able to swing your golf clubs without your shirt coming out of your pants, shorts or golf skirt. To find the perfect size for your golf attire, review our men's sizing guide and women's sizing guide.
Tips from Overstock™
Golf equipment can be pretty expensive, especially when you purchase your entire golf set one golf club at a time. Finding great golf gear shouldn't drain your wallet. Overstock.com has golf club sets, golf bags, golf accessories and even golf balls, all at great discounted prices. Improve your golf game with golf gear designed to hone your golfing skills.
You don't always need a whole golf club set; sometimes all you need is one or two clubs. Our selection of single golf clubs lets you choose from many types, including golf putters, golf wedges and fairway woods. Pick up just the clubs you need or retire your current set and purchase a new set of golf clubs.