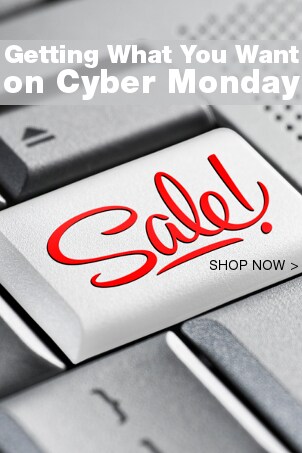 If you didn't find what you were looking for on Black Friday, then you won't want to miss the Cyber Monday deals. The Monday after Thanksgiving is another great opportunity to save on holiday gifts. You're sure to be successful while shopping the sales on Cyber Monday if you know exactly what you're looking for. Use these tips to create a successful plan of attack for getting exactly what you want.
How to Find Cyber Monday Deals:

Know what you want before Cyber Monday comes. Before sitting down at your computer, make a list of the people you still need to buy gifts for with some notes about the gifts they might like. Take some time before Cyber Monday hits to browse through your favorite websites and sign up for email alerts. If you're familiar with the site, then you'll know exactly where to go when the sale opens and you can buy the presents you want before they sell out.

Find websites you trust. Some shady websites want to take advantage of shoppers during the holiday season. To protect yourself, find the ones that you've used before and had good experiences with. Or look for signs that you're using a trusted site, like notices of awards the website has won.

Bookmark the Cyber Monday sales page. If you can open the right web page immediately, you'll be able to get to the best deals quickly. This is especially helpful if you'll be shopping multiple websites or if some retailers have sales that start at various times throughout the day.

Know all your billing information. Have all your billing information on hand. Using a website you've ordered from before means they may already have your billing information saved for easier and faster checkout times. If you've recently moved, update your account information on your favorite sites to make sure you have your new address saved; this will help speed up checkout. Keep your credit or debit cards close, so you don't have to look for them as you're ready to check out.

Do your research on Cyber Monday deals. Double-check times and offers on the website before Cyber Monday rolls around. Are the MP3 players and laptops only going to be on sale at a certain time during the day? Make sure you know when to be online, so you don't miss out on the best deals.

Shop Our Cyber Monday Deals
See All Current Sales
Find the Perfect Present in Our Gift Center
See All Guides
Read Online Shopping Guides
Learn More about Holiday Shopping
Published November 16, 2010
Updated December 1, 2014