Gel Memory Foam Buying Guide
by Stephanie Petersen
Published June 5, 2012 | Updated August 20, 2015
Are you having trouble sleeping? Gel memory foam could be the solution. It's similar to traditional memory foam, but the gel adds benefits that many people find to be the secret to comfortable, restful sleep. Because it's a new product, you may not be sure what to look for when you're shopping. This information will help you find the gel memory foam mattress topper, pillow, or mattress that could help you get a better night's sleep -- every night.
Buying Gel Memory Foam: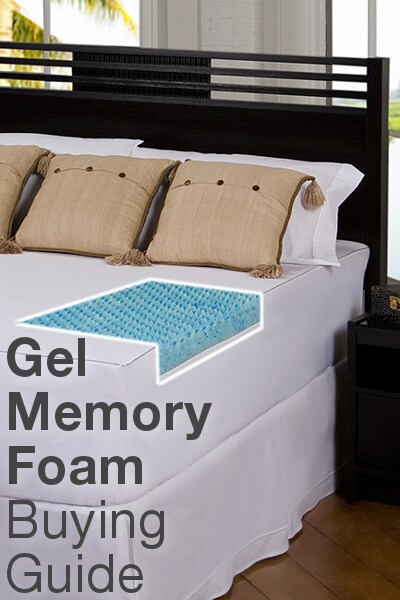 Shop Gel Memory Foam ▸
Density

The density rating on gel memory foam tells you how much a 12-inch cube weighs. For a mattress or topper, a density of 3 to 4 pounds is usually best. Some users find that products with a density rating lower than 3 may not be very durable. Gel memory foam toppers or mattresses with a density rating of 5 or higher may get too warm for people who get hot when they sleep. On the other hand, pillow density can be higher than 5 while still maintaining a cool temperature.

Thickness

It doesn't take much gel memory foam to add the softness and support you need. The more cushioning you want, the thicker your mattress or topper should be. If you prefer a firmer sleep surface, choose something that is just 1 to 3 inches thick. If you like to feel more "cradled" while you sleep, look for something 4 inches or thicker. For mattresses, the thickness of the top layer will mainly determine how much cushioning you will have.

Similarities to Traditional Memory Foam

Gel memory foam is a viscoelastic material like traditional memory foam, so it resists motion transfer and reduces pressure on shoulders and hips. It's also antimicrobial and very durable.

Differences from Traditional Memory Foam

Gel memory foam has been infused with gel beads, giving it more strength, so you don't sink into the bed as deeply. The gel also allows more air flow, so you can stay cooler at night. With the addition of gel, you get all the benefits of traditional memory foam without the problems that some users have. For more information, read about why you need gel memory foam.
What's Keeping You from Feeling Rested?
Lower back pain: A gel memory foam mattress topper or mattress can help with spine alignment, so you will have less low-back pain when you wake up in the morning.
Stiffness in neck: Headaches and neck pain can be reduced with a gel memory foam pillow.
Too much heat: If you wake up warm during the night, you will benefit from using a gel memory foam pillow with a topper or mattress.
Pressure from sleeping on your side: A gel memory foam mattress or topper has gel beads that collect in the points under shoulders and hips, reducing pressure on these areas.