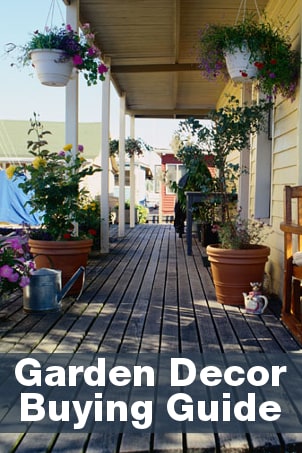 Beautiful landscaping integrates the house and garden into a home, allowing you to relax outside day and night. The right garden decor blurs the distinction between indoor and outdoor living with functional and decorative elements. Give your yard some personality with the right outdoor accessories. Here's what to look for when you're shopping for garden decorations.
Garden Decor Essentials:

Decorative garden accents: Garden accents are your chance to add personality to your outdoor space. Before you shop for accent pieces, think about the feeling that you want in your backyard.

Create the Garden Mood You Want:

Classical: Create symmetry with pairs of tall planters, and accent your garden with Greek goddess statues or large fountains.

Kitsch: Pink plastic flamingos and garden gnomes are the classic way to get this look, but funky metal yard art, ceramic mushrooms, and fairy gardens (miniature container gardens that look like homes for pixies and sprites) are also a fun way to create this laid-back look.

Zen: Peaceful Buddha statues, ceramic stools, and bamboo wind chimes will help you create the perfect place for meditation in the sun.

Cottage: Accent the rustic feel of a cottage garden with wooden planters and cement birdbaths. Colorful gazing balls on stands, angel statues, and wind spinners add color and whimsy.

Moroccan: Metal lanterns can sit on patio tables or hang from trees, and garden stools with medallion patterns provide seating or surfaces for potted plants.

Planters: Extend your garden onto your patio with outdoor planters. This is a great way to add greenery to the patio or balcony, especially for apartment dwellers. You can also use planters in your garden to add height and to contain plants that spread more than you want. Planter styles include stands and hanging baskets for one plant and multi-shelved stands to hold many garden plants. Outdoor planters are designed to survive the elements. Cedar, bamboo, and iron are all popular materials known for their resistance to mold and mildew. Rustic flower planters made of cedar add color to the yard, and many are large enough to hold a mini vegetable garden. Decorative iron and mosaic planters are elegant enough for indoor use and can sometimes double as small patio tables.

Fountains and birdbaths: Outdoor fountains add the relaxing sounds of running water to any setting. They range in size from tabletop rock designs to large pieces of public art. Outdoor fountains help create a sense of privacy by masking traffic and other noises. When choosing one, first consider the size and how it will fit into your garden decor. Most yards will accommodate a larger pedestal fountain while a smaller fountain will create a focal point in a flower garden. Be aware of how much water noise you want; the water noise increases with the length of the waterfall.

Bird feeders and birdbaths: If you like bird watching in your yard, make sure to shop for bird feeders. Choose several styles to attract multiple birds and put them out in early spring before the migrating birds arrive. Early placement entices the birds to visit your yard throughout the seasons. Large feeders need fewer refills, but smaller feeders attract small song birds and deter larger birds from dominating the feeding station. Be sure to place pedestal and ground-based bird feeders at least 8 feet from bushes where predators may lurk; this gives birds room for escape in case the neighbor's cat is hungry. Birds are attracted to the sound of running water. If you want to attract birds but don't want the sound of running water, choose a bowl-like standing water birdbath. This will allow birds to frolic and clean themselves without subjecting you to constant noise.

Fireplaces: Most outdoor fireplaces are basically portable fire pits -- a large bowl set on sturdy legs. A patio fireplace extends the outdoor entertaining season by letting guests enjoy cool evenings under the stars. Outdoor fireplaces burn wood or charcoal, and some feature grilling grates. Many outdoor fireplaces include a spark-arrestor screen in the lid, an important safety feature.
What Do You Want to Do Next?

Shop Garden Accents
Shop Outdoor Fireplaces
Shop All Garden Decor
See All Guides
Read More Garden & Patio Guides
Learn More about Garden Decor