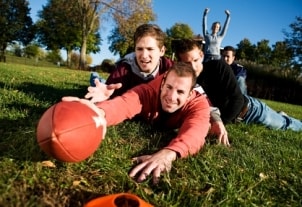 The gridiron attracts sports fans of every age and zip code, and "American football" continues to grow in popularity all over the world. Football fans constantly brag about topping popularity polls among team sports. America's weekend addiction is also a great opportunity for sports and fitness, but it is important to remember that football is a contact sport; players get hurt, sometimes seriously. Modern football gear is designed using the best engineering and materials available, and when you use the right football helmets, football pads and other football equipment, you can reduce chances of injury.
Buying Football Equipment:

Footballs: Professional and collegiate footballs are about 11 inches long by 22 inches in circumference. Smaller balls are available for youth play, and mini-footballs are popular for pick-up games among friends. If you're buying for youth football leagues, check with the league to see if they have size requirements.

Materials:

Full-grain is real leather with minimal processing; "full-grain" means full-depth of skin. Full-grain makes the best, the most durable and the most expensive footballs.

Top-grain is from the outer skin layers that produce leathers almost as good as full-grain; they make good discount footballs, suitable for practice or casual games.

Synthetic footballs, like plastic or rubber footballs, are great for practice and children; some are even water-resistant for use in the pool. Cheap footballs are reasonably durable, but rubber balls don't handle as well as leather.

Foam footballs are the best for a quick pick-up game on the street or in the back yard. Foam footballs are inexpensive, fairly durable and tend not to break what they hit.

Football helmets: When thinking about a new helmet, the first thing to look for is the NOCSAE seal. The National Operating Committee on Standards for Athletic Equipment is a voluntary organization that sets standards for sports equipment. Sports gear with the seal represents the best technology available at the time the football helmet was manufactured. Second, get a football helmet that fits properly; using a cloth tape, measure around the player's head about one inch above the eyebrows. (When wearing the helmet, position it so the front edge is approximately one inch above the eyebrows.) Exact football helmet sizes vary by manufacturer, but they generally follow hat sizes.





| | | |
| --- | --- | --- |
| Head size | Hat size | Helmet size |
| 21 inches | 6 3/8 - 6 5/8 | XS |
| 21 1/2 - 21 3/4 inches | 6 5/8 - 6 7/8 | S |
| 22 - 22 1/2 inches | 6 7/8 - 7 1/8 | M |
| 22 3/4 - 23 inches | 7 1/8 - 7 3/8 | L |
| 23 1/2 - 24 inches | 7 3/8 - 7 5/8 | XL |
| 24 3/8 - 24 7/8 inches | 7 1/2 - 7 7/8 | XXL |
| 25 1/8 - 25 inches | 8 - 8 1/8 | XXXL |

Facemasks: A wide range of facemasks are available, mostly based on the player's position. The so-called "skill positions," like quarterback and wide receiver, need good visibility, while linemen have more trouble with eye-poking accidents. Coated carbon steel is the material of choice; stainless steel is the lightweight alternative. Both offer excellent protection. Football helmets are sold with and without attached masks, depending on the manufacturer's preference. Either way, many manufacturers use letter codes to describe the protection design.

Facemask designs:

OPO: Oral protection only

JOP: Jaw and oral protection

NOPO: Nose and oral protection only

NJOP: Nose, jaw and oral protection

EGOP: Eye glass and oral protection

Shoulder pads: These are the most important pads and the first consideration is size. They need to fit snugly but comfortably. To be measured for adult football pads, stand up straight with your arms at your sides and have someone measure the width across your back from shoulder tip to shoulder tip, rounding up to whole inches. For youth football pads, do the same but consider chest size and weight as well.





Youth
shoulder pads

Back measure (inches)

Chest size (inches)

Weight (pounds)

Adult
shoulder pads

Back measure (inches)

XX Small

11 - 12

24 - 26

40 - 60

Medium

17 - 18

X Small

12 - 13

26 - 28

50 - 70

Large

18 - 19

Small

13 - 14

28 - 30

60 - 80

X large

19 - 20

Medium

14 - 15

30 - 32

70 - 100

2X large

20 - 21

Large

15 - 16

32 - 34

90 - 120

3X large

21 - 22

X Large

16 - 17

34 - 36

110 - 140

4X large

22 - 23

5X large

24 +

Other pads: Before you are ready to play, make sure that you are geared with all other pads. Most football players will be fully outfitted with rib vests, lower body and leg pads, collar pads and arm protection pads. When completely outfitted in these pads, you'll be able to stay fully protected.
Tips from Overstock.com:

Learn about the game: With books and DVDs about football, you can learn more about good techniques, the best exercises to condition the specific muscles you'll need and more.

Multiple sports: Seasons come and seasons go but team sports are a year-round pleasure. If the gym seems a little tame, try playing several sports. If you like football, try football, also known as soccer if you're in the United States. Rugby is also similar in many ways.

Buy Football Equipment
Back to Guides Directory