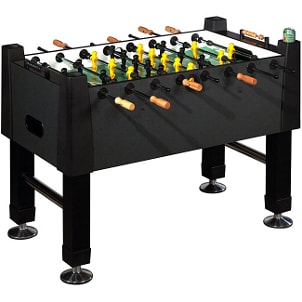 Foosball is a table game that can be played by a beginner but continues to challenge for a lifetime. And because of the continuing challenge of foosball, a foosball table is a great addition to your game room. But before buying a foosball table, you'll want to have a better understanding of the terminology of the game and components of a foosball table. Check out the glossary of foosball terms below to know more about foosball tables.
Foosball Table Terms:

Bar: The bar is the rod that the foosmen are attached to.

Bearings: The donut-shaped pieces that the bars pass through in the table are called bearings. The bearings are designed to reduce friction and allow easy movement of the bars.

Bumper: Bumpers are the rubber cushions on the bar that prevent damage to the cabinet from the bumping of the handles or men into the sides of the cabinet.

Cabinet: The large box that holds the playing surface of the foosball table is known as the cabinet.

Corner ramp: The corner ramps are sloped portions in the corners of a foosball table that eliminate dead space in the playing surface.

Defensive area: The area between the goal and the two-bar is the defensive area.

Foosball: This game is also known as table soccer or table football.

Foosman: A foosman is the figure on the bar that makes contact with the ball.

Foot: Just like your feet, they are found at the bottom of the legs on a foosball cabinet. They usually adjust to level the foosball table.

Glass-top: This refers to a foosball table that is topped with glass.

Goalie rod: The goalie rod is the bar that is closest to the goal; it usually has only one foosman.

Grip: A grip is the surface that is sometimes added to the handle of the bars to provide better control.

Mid-line: The middle rods that usually have five foosmen comprise the mid-line.

Playing field: The portion of the table in which foosball is played is, of course, the playing field. The playing field extends vertically to the top of the cabinet walls.

Toe: The bottom of a foosman is called the toe.

Buy Foosball Tables
Back to Guides Directory