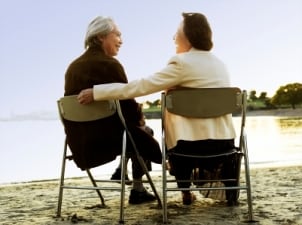 Even though folding chairs and plastic chairs seem identical, there are actually some very important and subtle differences. Some are better suited for permanent seating and others are only necessary when you need some quick seating. Folding chairs may seem to be an easy seating solution, but are they better than plastic chairs and vice versa? Below is a listing of attributes for folding chairs and plastic chairs.
Folding Chairs vs. Plastic Chairs

Material. Folding chairs are made from a range of many different materials. You'll have to decide between a metal folding chair, a plastic one, or folding chairs that are padded, upholstered or wooden. Plastic chairs obviously only come in plastic, but there are varying grades. Plastic chairs can come as lightweight plastic garden chairs all the way up to heavy plastic items for long-term home seating usage. Plastic chairs can also be made completely out of plastic or come with metal or wooden legs for sturdier support.

Use and appearance. Folding chairs are mainly used for temporary extra seating and are very rarely used for long-term seating. They come in many different materials and colors, which gives you the option to match them to whatever occasion you need the seating for. Plastic chairs, on the other hand, are meant to be shown off and therefore are usually on permanent display in the home. They make a bold fashion statement and are best used in modern decoration. They come in a variety of shades from shiny plastic to dull matte.

Maintenance. The type of maintenance for folding chairs depends on the material of the chair. All a plastic folding chair needs is a quick wipe down with a damp cloth. A metal folding chair will need to be dusted on a regular basis and checked for rust if it's an outside chair. A padded folding chair will need to be vacuumed in order to stay clean and dust-free for your guests. Your outdoor wooden folding chairs will need to be covered with a tarp when not in use. Indoor wooden folding chairs should be wiped down with furniture polish. This helps them maintain their natural beauty and keeps the wood from drying out. These simple things will keep your folding chairs looking beautiful and functional. Your plastic chairs only require a quick wipe down if they start looking grungy. It's a good idea to keep them out of too much sun because this can cause bleaching and cracking if the chairs are exposed for an extended period of time.

Storage. Folding chairs are easy to store. All you have to do is fold them and stack them on top of each other or lean them against each other in a closet or against a wall. These chairs will save you space. Plastic chairs are storable, but they won't fold up like folding chairs. Most plastic chairs will stack on top of each other if you really need the extra space.

Buy Folding Chairs
Back to Guides Directory