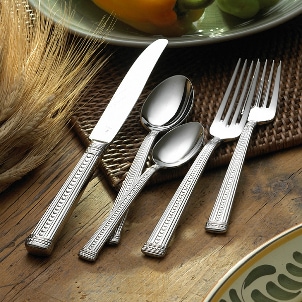 When selecting flatware, the most important qualities to be aware of are design and metal. These features affect the flatware's cost, durability and maintenance. You'll want to have enough flatware to serve eight to 12 people, plus a few more in case a piece is dropped during the meal and your guest needs a clean replacement. You may want to buy a large set of flatware if you plan on having several guests. There are several flatware pieces you may need, depending on what you serve in the meal and how formal it is; purchase flatware sets to get most of the basic pieces. Remember to care for your flatware appropriately so it always retains its luster.
Buying Flatware:

Design: Choose flatware or silverware to match your personal style and complement your dinnerware. If you are unsure of what style to choose, look at the style in which you have decorated your home. Some flatware sets emphasize a traditional look, while others accentuate contemporary designs. As with dinnerware, you may want to have a set of casual flatware as well as a set of formal flatware. You will also want to consider the weight or "heft" of your flatware. This comes down to personal preference: Some people like heavier silverware, and others like lighter flatware. Be aware of flatware that is too thin. Cheap flatware is so thin that it can bend and break.

Metal: The type of metal a flatware set is made from will greatly affect its longevity and maintenance requirements. Stainless steel flatware is better suited for everyday use, while silver flatware takes more care and is often saved for special occasions. Silver flatware is also usually more expensive than stainless steel flatware. You may see a few numbers listed in the description of stainless steel flatware. Stainless steel marked as 18/10 is the highest quality. The number means that the alloy contains 18 percent chromium and 10 percent nickel. The chromium makes the metal rust- and stain-resistant, while the nickel gives it luster and shine. The rest of the metal is composite steel, which makes the flatware strong.

Pieces: Although very formal meals include even more flatware pieces, your formal meals will most likely leave out specific-use tools, such as the lemon fork or the chocolate spoon. You will most likely only need the following flatware pieces to create a formal table setting.

Formal Flatware Pieces:

Forks: A dinner fork is the standard-sized fork. The salad fork is slightly smaller than the dinner fork. A dessert fork is about the same length as the salad fork but may be narrower. The fish fork is about the length of a dinner fork but is often narrower. An oyster or shellfish fork is very small and usually has only two tines.

Knives: The dinner knife is the standard-sized knife. The butter knife is much smaller and usually has a rounded tip. A fish knife is about the same size as a dinner knife, but it has a special tip for undressing a fish that is served with head, skin or bones. A steak knife has an extra-sharp, usually serrated, blade.

Spoons: Generally, a soup spoon and a dessert spoon are the only spoons required. A demitasse spoon may be brought out with a cup and saucer for coffee, though using the dessert spoon is considered acceptable to stir within all but the most formal settings. Different soup spoons are available for cream soups or broths, but a standard soup spoon is usually enough. A tablespoon or place spoon may be set on a formal table if the meal requires it, and they are often used for an informal meal where no soup is served. A teaspoon is only required when there will be tea served.

Serving pieces: Service flatware usually includes a soup ladle, a large serving spoon, a large serving fork, a pie or cake wedge and a cheese knife. Be sure that you have the correct serving utensils for the foods you want to serve.

Sets: Flatware is often sold by the place setting. A five-piece place setting usually consists of a dinner fork, a salad fork, a dinner knife, a teaspoon and a tablespoon. A 20-piece flatware set usually has four place settings. A 45-piece flatware set includes eight place settings and five serving pieces.

Flatware care: Stainless steel flatware or silverware with handles of a different material may require different care. When in doubt about the care for flatware-handle material, wash your flatware by hand. Experts recommend washing your stainless steel flatware and silverware separately.

Caring for Your Flatware:

Sterling silver: Always rinse food residue off silverware after use, but do not leave it soaking. Although you can wash most sterling silverware in the dishwasher, hand washing is recommended. If you do choose to machine wash your silverware, remove the silverware before the heat-drying cycle and hand dry it. When your silverware is completely dry, store it in a silverware case lined with an anti-tarnish material; many silverware sets are sold in this type of case. Silverware will need to be polished occasionally with a silver polish.

Stainless steel: As with silverware, rinse off food residue as soon after the meal as possible. Wash your stainless steel flatware by hand the first few times you use it to condition it. Afterwards, you can machine wash it. Be careful not to use too much detergent; this can cause rust to form. If rust does appear, clean your stainless steel flatware with an all-purpose metal cleaner. You generally do not need to polish stainless flatware.

Buy Flatware
Back to Guides Directory