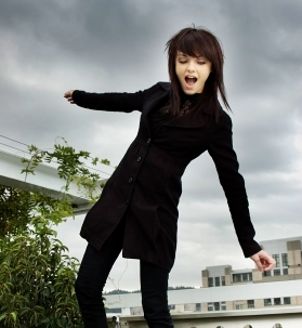 Flat irons take your hair from curly and frizzy to sleek and silky in a matter of minutes. Flat irons help you change your style regularly and get a lot of versatility from your haircut. With practice, you can have salon-beautiful hair every day, and your hair straightener can become one of your favorite hairstyling tools. Use our flatiron technique tips to add stick-straight hair styling to your hair-care routine.
Flat Ironing Your Hair:

History: Though the popularity of modern flat irons is fairly new, these hair-care tools have been around for quite a long time. Scottish heiress Lady Jennifer Bell Schofield perfected a hinged two-plate heated hair straightener in 1912. This basic design has been improved over time to give us the contemporary hair straightener. Today, flat irons come in many varieties, including ceramic flat irons and straighteners with advanced features. Practiced flatiron techniques can help you make the most of this fabulous hair tool.

Shopping: Buying the best flat iron for your hair type and styling needs will help when it comes to flatiron performance. You will need to choose between hair straighteners with varying plate sizes, heat levels and shape designs. Consider ceramic flat irons for their ionic properties and even heat distribution. Additional features, such as indicator lights, digital displays, quick heat-up technology, automatic shutoff and interchangeable plates, are also available.

Technique: Flatiron techniques are simple with a bit of practice. Consider pinning your hair back in sections before starting. Blow dry or air dry your hair before flat ironing to prevent heat damage. Gather a section of hair into your hand and comb through it once or twice. Gently close the flat iron over the hair, being careful not to touch the straightener to your skin. Pull the flat iron down over the strand of hair in a smooth, continuous motion. You can comb and iron hair sections multiple times to achieve desired shine and texture. You can also use your flat iron to flip your hair up or curl it gently under with a slight movement of your wrist in the direction you want the curl to go. If you want to create spikes with your flat iron, pull up instead of down when straightening.

Products: Sprays, serums, creams and balms can help protect your hair from heat damage and give your tresses a smooth, shiny texture and appearance. Products made specifically for use with a flat iron often offer the best results.

Buy Flat Irons
Back to Guides Directory