by Giselle D.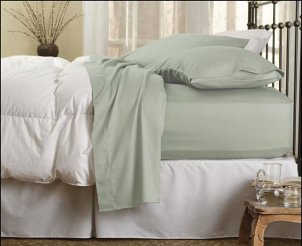 The choice of sheet fabric can be difficult, and for good reason. There are considerations like care, benefits and warmth factor that can make choosing sheets difficult, even between two fabrics such as flannel and cotton. Armed with the right knowledge, however, your choice can be made much easier.
Cotton and Flannel Sheets:

Flannel: Flannel is commonly used for items such as sheets, clothing and sleepwear as well as other bedding items like pillowcases and blankets. Made of wool, cotton or synthetic fibers, flannel is known for its loosely knit stitching. Flannel sheets are soft, warm and often affordable. Thread counts are an important feature for all types of sheets. A higher thread count makes for a softer, higher quality fabric.

Cotton: Probably the most used and most popular fiber available, cotton is included in a wide variety of materials, including flannel. Cotton sheets are relatively cheap compared to satin and silk sheets. Again, higher thread counts raise the price. Egyptian cotton sheet sets are the ultimate in luxury, but expect to pay a higher price for them.

Care: The care of flannel and cotton sheets is similar, and both are easy to care for. Flannel sheets can be washed in hot, warm or cold water and dried with little to no shrinkage. Flannel doesn't wrinkle easily, so your sheets will always look nicely pressed. Cotton sheets are known to wrinkle and shrink, though the shrinking is not usually extreme. To prevent wrinkling, remove the sheets from the dryer immediately after it has stopped.

Benefits: Energy conservation and eco-awareness are currently huge topics. Fortunately, both cotton and flannel have their benefits in these areas. Many people use flannel sheets in the winter to reduce heating bills because flannel is known to be especially warm for bedding. Cotton, though cooler as a bedding material, can easily be recycled. Many cotton items are made from recycled materials.

Bottom line: In general, the biggest factor in choosing between cotton and flannel sheets is that of warmth. If you are usually warm, you may want to shy away from flannel. If you tend to get cold easily or would like to cut down on heating bills and energy usage, flannel may be the way to go.

Buy Sheets
Back to Guides Directory