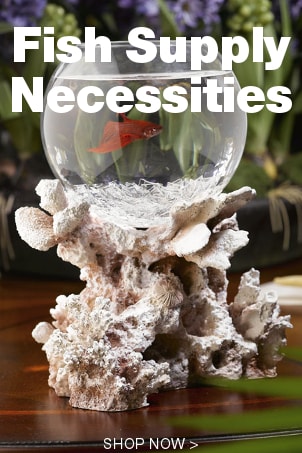 Your pet fish are fragile, and the right fish supplies can have a huge impact on the well-being of your fish. Fortunately, finding the right fish supplies to keep your pets alive and well is an easy process. Whether you just bought your first fish friend or are making a few additions to your aquarium, you will want to make sure you have these necessary fish supplies.
Essential Fish Supplies:

Aquarium: Every fish deserves a good home. That fact may be obvious, but which type of fish tank you need may not be. When you're looking for the right pet fish supplies, make an aquarium your first priority. The two most popular options are fish bowls and aquariums. Fish bowls are appropriate for one or two low-maintenance fish, such as goldfish or guppies. If you have a lot of fish, you will want to invest in a larger aquarium or fish tank. If you need salt water fish supplies for tropical fish, a saltwater aquarium is essential.

Food: You'll want to keep your fish friend happy and healthy, and feeding him fish food will do just that. Different fish require different types of fish food, and you may have several fish with different needs in one aquarium or bowl. When you're shopping for pet fish supplies, find out the right kind of food for your specific type of pet fish to make sure they get the nutrients they need.

Decorative accessories: There are all kinds of different aquarium accessories you can consider when looking for fish supplies. Of course, there are decorative accessories. Everyone loves a fish tank with a miniature bubbling treasure chest or a playful mermaid. You can also add plants to an aquarium or a fish bowl to increase beauty and create the right environment for your fish.

Aquarium gear: In addition to decorations, there are also aquarium accessories that will help keep it a clean, healthy place for your fish, such as filters and water heaters. Before you place your pet fish in their aquarium or bowl, make sure it has the right fish supplies to keep them happy and healthy.

Shop Fish Tanks
Shop Aquarium Stands
Shop All Fish Supplies
See All Guides
Read More Pet Guides
Learn More about Pet Gear & Supplies