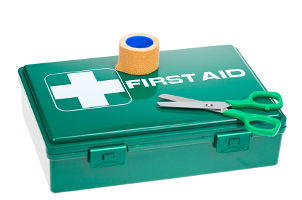 A quality first-aid kit is an important item to have on hand. Regardless of your age or family dynamic, injuries can occur anytime, anywhere. It is a good idea to always be prepared with a fully stocked first-aid kit. Keep a first-aid kit in your home and in your car and consider packing one in your diaper bag, purse or athletic duffel. Whether you choose to purchase your first-aid kits completely pre-assembled or you prefer to put your own items together, there are a few essentials that are the foundation of a good first-aid kit.
First-aid Kit Essentials:

A first-aid manual. Start with a first-aid manual, which will assist any adult or older child in treating injuries. A first-aid manual is included with most pre-assembled first-aid kits, and you can also add your own. Purchase a basic first-aid instruction booklet or print one from the Internet. If an emergency does occur, you'll be glad to have step-by-step instructions.

Bandages. First Aid kits are most commonly used to treat minor cuts and moderate injuries, so a variety of bandages will almost always come in handy. Your first-aid kit should include an array of self-adhesive bandages in an assortment of sizes as well as sterile gauze, athletic wrap and adhesive tape.

Cleansers. Treating injuries on the fly requires a few basics to reduce the chance for infections and enhance comfort. Hand sanitizers and wet towelettes are great for cleaning injuries and are important first-aid kit supplies.

Ointments. Antibiotic ointment can be very helpful for preventing infections when dressing wounds. Saline solution is also a handy item when you need to flush out eyes or injuries. Hydrocortisone cream and calamine lotion calm itchy, irritated skin and are helpful in emergencies where skin has come in contact with poisonous plants or things that an individual is allergic to. Burn cream or gel will help alleviate pain from minor burns.

Tools. A few small tools in your first-aid kit can really come in handy. Tweezers can remove splinters and other small objects from skin. Scissors are great for cutting bandages to the right size or cutting clothing off in emergencies.

Medications. A few over-the-counter medications can come in handy in an emergency, including non-steroidal anti-inflammatory drugs (NSAIDs), aspirin and acetaminophen. These medications can help treat pain and swelling as well as reduce fevers. You might also consider adding charcoal pills, which can be used to treat drug overdoses and upset stomachs, and antihistamines, which treat a variety of allergies and sinus symptoms, to your first-aid kit. It is also a good idea to stock one or two emergency doses of essential prescription medication. If you or someone in your family suffers from severe allergies, keep an epinephrine pen in your first-aid kit as well.

Additional accessories. Though you might choose to simply stock the basics in your first-aid kit, some additional items can be useful in emergencies. Air-activated hot and cold packs come in handy for reducing swelling and easing pain and can also be used to reduce fevers or increase body heat. Aluminum or wooden splints can flank injured fingers and toes and reduce the chance for further injury.
First-aid Tips and Warnings:

First Aid kits can treat minor injuries and are a good first step to preventing major injuries from getting worse or becoming fatal, but they are not intended for survival situations. It is always a good idea to keep an emergency preparedness kit on hand for more severe situations. These kits may include additional medical supplies, blankets, food, water, matches, flashlights and other essential supplies.

The content on this site is not intended to substitute for the advice of a qualified physician, pharmacist, or other licensed health-care professional. The products may have additional information and instructions on or inside the packaging that you should carefully read and follow. Contact your health-care provider immediately if you suspect that you have a medical problem. The use of dietary supplements may not have been evaluated by the Food and Drug Administration and is not intended to diagnose, treat, cure, or prevent any disease or health condition.

Buy First Aid Kits
Back to Guides Directory