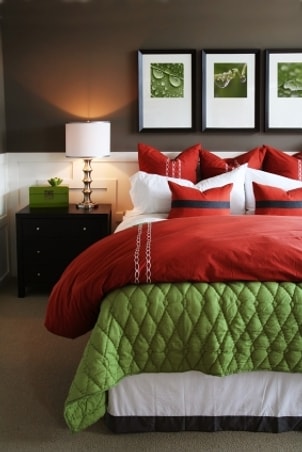 Revitalize your life with feng shui, an ancient Chinese philosophy and practice often associated with contemporary interior design. Literally translated, feng shui means "wind-water" and helps individuals understand the connection between their internal lives and their physical surroundings. With the right feng shui tips, you can make clear improvements in your life and create positive chi, or interaction with the environment, through a more relaxing home and garden atmosphere. This feng shui buying guide will give you easy-to-follow steps on incorporating feng shui design in a way that works for you.
Creating a Feng Shui Home:

Start with a clean slate. One of the feng shui basics is to get rid of clutter and items you've accumulated over the years. If you can't sell your clutter at a garage sale, donate it to your local thrift store or throw it out. The benefits of a feng shui home are derived from this essential step. Once you're rid of the things that are impeding the flow of energy in your home, you can take a deep breath, get a clear picture of your home's feng shui interior and design deliberately. Feng shui decorating is easier to achieve in a clean, simple home.

Make a feng shui bagua map. Diagram your home as true to scale as you can on a piece of paper to work on each feng shui room separately. If you have multiple stories, diagram them separately. Find the center. Next, reorient your map so the main entry door is at the bottom and divide the space into nine boxes. Each box represents a major aspect or aspiration in your life. From left to right, label the nine sections with these titles: wealth and profit, fame and reputation, love and relationships, health and family, spirituality and well-being, creativity and children, wisdom and knowledge, career, helpful people and travel. The feng shui placement map will reveal areas in which your chi is cluttered, misaligned or neglected. For example, if you're having trouble at work, focus on the career section to create a feng shui home. You can use the same feng shui placement method to map smaller spaces, like your office.

Keep your home fresh. Maintaining a clean, natural home is another of the feng shui basics. Open windows and close doors. Clean air and clean water is fundamental to healthy chi, so consider investing in an air purifier and a water filter. In any room, energy slows down, collects and disperses like water or air, and the arrangement of furniture is important for maintaining a harmonious feng shui interior. Keep chi from gathering in corners with plants, full-spectrum lights, wall sconces or candles and accessories. Hang a mirror in your main room to double the calming, reflective light, but don't hang it opposite the front door, unless you want your chi to make a swift exit. These feng shui tips can also keep your home cleaner and easier to maintain.

Use complementary colors. In feng shui design, colors are formed by the five elements on which feng shui is based. If an area like a nursery needs creative energy, choose feng shui colors from the wood element, including green and brown. If you'd like your office to be a reflective area, choose metallic feng shui colors like white, grey, silver or gold. When a dining room is lacking in enduring, foundational energy, earth colors like brown, sand and beige can help. For passion and intensity in the bedroom, pick fire colors, including red, orange and yellow. To improve communication and learning in the living room, choose water colors, like blue and black, as part of your feng shui decorating scheme. You can also use these colors and element designs to make your office into a feng shui room.

Buy Home and Garden
Back to Guides Directory