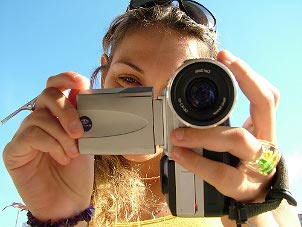 As you make the upgrade to an HDTV, it won't be long before your camcorder follows suit. Take advantage of your TV's higher resolution with camcorders capable of shooting in HD. You may want to shop carefully, however, because the digital camera industry is moving quickly through the HD transition and features vary dramatically between each type of HD camcorder. Look for a digital camcorder with several of these features for a camera that shoots quality high-definition video.
HD Camcorder Features:

Portability: The camcorder keeps shrinking, and you'll find several mini camcorder models available. You can now find portable digital camcorders that literally fit in your pocket and still record hours HD video. A mini camcorder typically uses removable flash memory cards, so you may want to carry a few extra cards with you for extra storage. Don't worry about the compact size, since the quality of a camcorder lies in its components rather than its bulk.

Built-in memory: A built-in hard disk or even a solid-state drive (SSD) is great, especially when that built-in memory translates to faster write speeds, which improves the overall performance of the camcorder. A high-definition camcorder with built-in memory will almost certainly have an expandable memory slot for memory cards as well.

Image-stabilization: Anti-shake features are always important for a camcorder, as it makes your videos significantly more watchable. Not all image-stabilization software is equally effective, and each camcorder manufacturer tends to have its own, so be sure to read camcorder reviews for feedback from other customers.

Intuitive interface: The user interface has a lot to do with camcorder usability. An easily navigable, intuitive menu system allows you to change video settings, switch to still-photo mode and manage videos without a lot of confusion. Many HD camcorders are also including LCD touch screens instead of the regular displays, which can be significantly simpler than hunting for camcorder buttons.

Connections: The number of ports your camcorder has will determine your options for charging the camera battery, transferring video and using peripheral devices. Microphone and headphone ports can help you record and monitor better sound for your videos. Some HD camcorders even have a connection for an attachable flash to improve lighting for recording.

Multiple resolution settings: Multiple HD video resolution formats and aspect ratios make it uncertain which video settings will become the industry standard. Look for an HD camcorder with multiple resolution options, or at least one that matches your HDTV resolution (720p, 1080i or 1080p).

HDMI-out: HDMI connections make it possible to easily share videos without a computer, assuming your TV has an open HDMI port. HDMI also helps you to avoid inadvertent downgrading to standard-definition video with other A/V cables.

Buy Camcorders
Back to Guides Directory