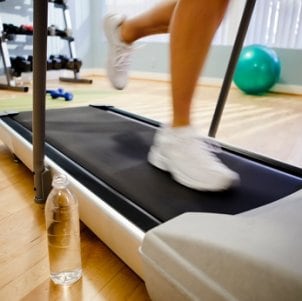 Fitting exercise into your busy schedule can be a challenge. Treadmills make it easier to budget exercise into your day by allowing you to run or walk whenever you want. You don't have to worry about weather or time of day or going to a gym. You can hop right on the treadmill in your home gym and get a cardio workout that's customized to your needs whenever you feel like it. However, not all treadmills are created equal. Today's treadmills come with a slew of different features, which can be baffling if you don't know what they all do. We've compiled a brief list of features commonly found on treadmills, so you know what you're looking at as you shop for treadmills.
Common Treadmill Features:

Treadmill warranties: You know what a warranty is, but you may not be aware of how important it is when it comes to a home treadmill. A decent warranty usually lasts two years, preferably three. If your treadmill doesn't come with a warranty, that may be an indicator that the treadmill you're looking at is not of the best quality.

Treadmill incline adjustors: One reason that treadmills are one of the most popular kinds of home fitness equipment is that they simulate actual running. Treadmills with adjustable inclines -- the deck tilts up or down -- make running on your treadmill even closer to running outdoors because it simulates running up hills. Not only does this add intensity to your workout, but it also can help to vary your workout, making it more interesting.

Treadmill heart monitors: One of the best ways to keep track of the intensity of your workout as well as your cardiovascular fitness is to use a heart monitor when you exercise. Some treadmills come with chest-strap heart monitors that keep track of your heart rate while you're running, conveniently displaying the figure on the display of your treadmill. With this number, treadmills are usually able to keep track of the number of calories you have burned.

Treadmill training programs: The majority of treadmills available nowadays come programmed with a variety of different workout plans. Depending on the plan you select at the beginning of your workout, your treadmill may increase and decrease the speed and incline at which you run in intervals, or it may gradually increase the intensity throughout the workout. Training programs can help you meet your fitness goals and help to make treadmill workouts more interesting.

Treadmill folding decks: Folding treadmills can be an attractive option if you're tight on space. A folding treadmill has a deck that folds up into the arms of the treadmill when you're not using it, freeing up a lot of space in your workout room. There are plenty of sturdy, high-quality folding treadmills available; however, you can also find plenty of rickety ones, so make sure you're getting a treadmill with a solid deck if you buy a folding treadmill.

Buy Treadmills
Back to Guides Directory