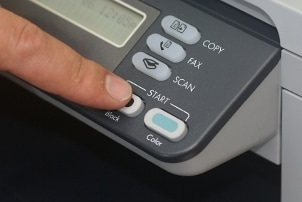 Communication is the key to success, no matter what size office you happen to work in; which is why fax machines are enduring tools for most businesses. This fax machine buying guide will give you more information about fax machines to help you select the right office electronics for your workspace.
Buying a Fax Machine:

Multifunction printer fax: Fax machines are often combined with other office electronics like printers and scanners. The dedicated, or stand-alone fax, will only send faxes and possibly make copies. A multifunction fax machine, also called an all-in-one-printer or printer fax, combines a fax machine with a scanner, printer and copier. Often, a multifunction printer fax won't have an analog phone line connection, but instead uses an online fax service through the Internet.

Laser and inkjet: Modern fax machines use either inkjet or laser printing to produce prints. An inkjet fax is typically less expensive than a laser fax machine, but laser faxes tend to be significantly faster. An inkjet fax machine will produce good text and is suitable if you receive a low volume of faxes. A laser fax machine has a higher up-front cost, but it prints faster at a lower cost per page.

Speed: Fax machines transmit and print at different speeds. The rate at which your fax machine scans and sends faxes is usually expressed as the number of pages per minute. Rates can be as low as 3 to 4 pages per minute or as high as 20 or more pages per minute. Printing speed may also be listed in pages per minute, but actual print speed can vary depending on the document.

Memory: Many of the latest fax machines receive at high speed and then print the received documents from memory. Fax machines with small memory can fill up quickly, especially if the fax machine runs out of paper. Once the memory buffer is full, any additional incoming faxes will be lost. Check your fax machine to see how many pages it can store in memory.

Paper: Nearly all fax machines use regular printer paper, but you may want a fax that can handle legal-size (8.5 inch x 14 inch) paper sheets, too. Be sure to check on compatible paper sizes for your prospective fax machine.

Extra features: You may find fax machine models featuring speed dial, fax forwarding, caller ID, automatic document feed trays, multiple output trays, multiple paper sizes (letter, legal, tabloid) and even network connectivity for your wireless network.

Broadcasting: A fax machine with fax broadcasting ability can send a single fax to multiple numbers simultaneously or in rapid succession. If you want to be able to send broadcasts with your fax machine, check to see how many faxes it can send at once.

Resolution: Like other printers, a fax machine will have a maximum print resolution, which is measured in dots per inch (dpi). A fax machine with a high dpi rating will produce very clear documents, but it may print slower than a lower resolution printer fax.

Fax machine care: Dust can cause damage to moving parts or act as heat insulation for temperature-sensitive electronic components. To prevent dust buildup, occasionally blow the interior clean with canned air and wipe down the exterior with a damp cloth.

Buy Fax Machines
Back to Guides Directory