Fashion Jewelry Buying Guide
by Staff Writer
What is fashion jewelry? It's the black leather cuff or fiery red bangle or sky blue beaded necklace that will take a good-looking outfit up to spectacular. Fashion jewelry features the creative elements that add interest to everyday clothes. When you're tossing clothes and fashion accessories onto the bed, trying to put together a knock-'em-off-their-feet outfit, and you need just one more bit of sparkle or punch of color, throw some fashion jewelry into the mix. Fashion jewelry includes the must-have jewelry of the moment and the unique fashion designs that accentuate personal style. Fashion accessories and designer jewelry can reflect the latest trends or vintage designs that outlast the whims of fashion. Trendy jewelry and accessories are available under many designer brand names too. Designer jewelry can be intricate and dramatic or simple and elegant. Most important, fashion jewelry is designed to be worn with just about anything.
Buying Fashion Jewelry: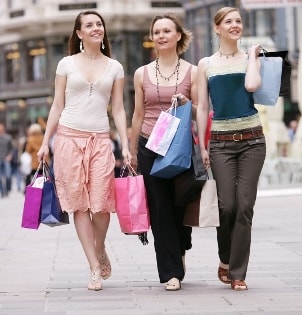 Shop Fashion Jewelry ▸
Add color:

Trendy jewelry includes all the gem colors, plus many more hues in glass, resin, crystals and plastics. Colorful fashion accessories can completely transform an outfit and help you display your personality. From black and white to pastels and brights, a small piece of jewelry can have a large impact.

Try a new pattern:

Fashion necklaces and bracelets often feature beautiful, multicolored patterns. Many designs resemble fabric patterns like floral or animal prints. The patterns may be formed during the manufacturing process or painted on by hand. Art glass beads feature patterns on the interior and exterior of the glass. Patterns add personality to an outfit, whether you like feminine rose patterns or vintage polka-dot designs.

Play with texture:

Texture adds visual depth and complexity to fashion. Texture can be achieved by the choice of materials used in making the jewelry; for example, leather, wood and rough stones contrast with smoothly woven fabrics. Designers can also finish the jewelry with various textures, leaving the surface smooth, grainy, chunky, polished or satiny.

Be sure to sparkle:

If you love the twinkle of diamonds but don't wish to wear those precious stones every day, wear costume jewelry decorated with crystals, glass and rhinestones. Crystal and glass beads are available in many colors and are faceted to reflect the light.

Make a statement:

Sometimes you want your jewelry to be the focus of your look. Wearing an oversized pendant or chunky earring is a great way to accessorize a conservative blouse and pair of slacks. When you want to show off an extra large, very bright or just very noticeable necklace or choker, keep the rest of your outfit simple to heighten the visual impact.

Make the most of your wardrobe and budget:

All right, you've chosen a shirt, jeans and those cute shoes you bought yesterday, but your outfit is still boring. Boring is the most dreadful of words to the fashion-conscious; fortunately, you have plenty of fashion jewelry to make that outfit shine. A large bangle adds a splash of color, and petite crystal earrings create some sparkling light around the face. Whenever you update your wardrobe with new clothes, handbags and other accessories, look for inexpensive jewelry to expand the style options of each outfit.

Express yourself:

Whatever the image you want to present to the world, jewelry exists to help you construct the look. Layers of beads in multiple colors and sizes display a Bohemian style. Put up your hair, wear some vintage pattern earrings and add a pretty charm bracelet to create an aura of romance. Of course, if you just love the color orange, you can find some orange fashion jewelry to elevate your mood when you dress for a rainy day. Self-expression is the best part of fashion.

Fashion Jewelry Tip

Create a versatile jewelry wardrobe by gathering a few basic pieces of traditional jewelry, and then increase your options with stylish and sexy earrings, bracelets and necklaces. This way, you'll always have jewelry to match and enhance your clothing. After all, no matter how many pairs of fun fashion earrings you own, sometimes only classic yellow gold hoops complete the outfit.