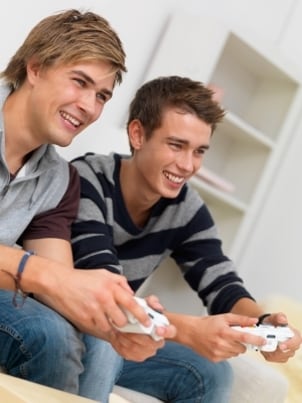 One of the best-selling, high-definition video game consoles available is the Xbox 360. The Xbox 360 is a powerful game system with thousands of available video games, several versions and many options to choose from. Here are the answers to some frequently asked questions about Microsoft Xbox 360 to help you set up the perfect gaming experience.
Common Xbox 360 Questions:

Do I need an HDTV to play Xbox 360?
No. Xbox 360 consoles work with nearly any TV, monitor or projector. While you don't need an HDTV to play, the high-definition graphics of Xbox 360 games look much better on a widescreen high-definition TV.

What is the difference between different Xbox 360 consoles?
Xbox 360 has changed since it was first released. Aside from the differences in accessories and the number of controllers included with different Xbox 360 bundles, different versions of the video game console have included different hard drive sizes, connection options and internal hardware. Here are a few of the more widely distributed versions:

Xbox 360 Versions:

Xbox 360 S: Smaller and quieter than previous versions, this Xbox 360 model comes with either a 250 GB or 4 GB hard drive. This version also features additional USB 2.0 ports, an optical audio port and 2.4 GHz 802.11 b/g/n wireless, built in; those features previously required additional adapters. This version is slimmer than older Xbox 360 models, too.

Xbox 360 Pro: Also known as Xbox 360 Premium, this discontinued version had either a 20 or 60 GB removable hard drive. This version is compatible with original Xbox games.

Xbox 360 Elite: This version featured a 120 GB hard drive, with some retail bundles including a gaming headset.

Xbox 360 Arcade: This version doesn't include a built-in hard disk drive, which was required for backwards-compatibility with original Xbox games. A separate hard drive can be purchased and connected to the video game console for storage.

Xbox 360 Super Elite: This is a special version of the Elite console, featuring a 250 GB hard drive and two wireless controllers.

What is Xbox Live?
Xbox Live is an online gaming service and marketplace for Microsoft Xbox 360. With an Xbox Live subscription, you can play video games online with friends, download extra content and even connect to the Internet.

What is Kinect?
Kinect is a motion-based control device for Xbox 360 which uses your body instead of an Xbox 360 controller. The Kinect cameras use infrared and video technology to detect your body movements and translate them into control for unique motion-based Xbox 360 games.

Buy Xbox 360
Back to Guides Directory